Equipping Recent Graduates and Mid-career Employees With the Skills They Need to Be Industry-relevant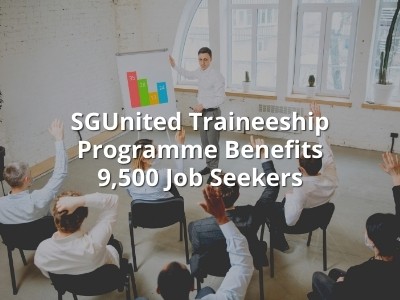 The SGUnited Traineeship programme launched last year has been met with great success, with 7,600 recent graduates and 1,900 mid-career workers partaking in the programme.
The mid-career workers took part in the SGUnited Mid-Career Pathway programme. That brings the total to 9,500 Singaporeans who have benefitted from the programme since it launched.
As of February this year, approximately 200 individuals have secured full-time employment while they were undergoing the programme. 2,500 organisations are participants in the program. This includes public agencies. Companies are offering either attachments or traineeships, and some of these companies are small and medium enterprises (SMEs).
The SGUnited Traineeship programme was introduced last year in a bit to tackle the Covid-19 pandemic. The hiring demand grew weaker because of the pandemic and this programme was aimed at turning that around.
The programmes under this initiative were designed to help those who would soon be graduating by opening the doors to gain industry-relevant work experience. Mid-career workers also benefitted from this by gaining some in-demand skills that would help broaden their professional network.
Singapore's Ministry of Manpower (MOM) and Workforce Singapore (WSG) expects another 15,000 attachments and traineeships to become available in the coming months. However, with unemployment easing, WSG is beginning to observe a "moderate application pace."
Companies that are hosting attachments and traineeships that begin before 31 March next year are eligible for financial support. Training allowances are also raised beginning 1 April for the Institute of Technical Education and those graduating with diplomas. The allowance also includes job seekers aged 40 and above in a mid-career job.
When the trainees were surveyed by firms after ending (or those who are going to end) their programme in June, 85% of the companies intend to convert trainees who meet the mark to regular employees.
WSG and MOM urge participating applicants of the SGUnited Traineeship programme to broaden their search. They are also urging applicants to consider smaller companies or companies that are not as well-known too.
Applicants and trainees of the SGUnited Traineeship programme who gain industry-relevant skills and experience will find it easier to secure full-time jobs.
Need Help Finding Suitable Talent for Your Business?
Matching the right jobs to the right people is how you build a harmonious business. A business thrives when it is driven by the right team of people. Human Resources Services in Singapore are crucial for this very reason.
3E Accounting has been the trusted industry expert by companies big and small for decades. Our strong history of helping the business achieve its dreams in Singapore and beyond is a testament to our commitment. We know what it takes to run a successful business, and we can help you achieve yours. For more information about our Human Resources and other Services in Singapore, we offer, contact us here.