What is the New Point-Based Work Pass in Singapore and How Does it Work?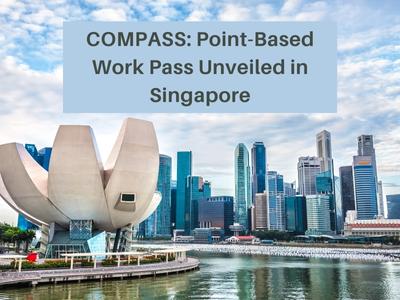 Singapore has taken a significant step in revolutionizing its approach to immigration and employment by introducing a point-based work pass system. The new system called the Complementarity Assessment Framework (COMPASS), aims to attract highly skilled professionals and prioritize individuals who can contribute to the country's economic growth and development.
COMPASS (Comprehensive Points Assessment System) will be applicable to new applications from 1 September 2023 and renewals from 1 September 20. Moreover, renewal applicants will go through the same points assessment to determine their continued eligibility for work passes in Singapore.
How Does the Compass Work?
The comprehensive Points Assessment System considers four factors (salary, diversity, local employment, skills bonus) to assign points to applicants, helping determine their suitability for employment in Singapore. For each criterion, applicants can receive between 0 to more than 20 points. All in all, applicants must meet 40 points to pass
COMPASS.
Salary
COMPASS for EP candidates in Singapore has two stages:
Stage 1: EP candidates must meet age-adjusted qualifying salary thresholds set by the government.
Stage 2: COMPASS considers sectoral salary differences, awarding points based on benchmarks compared to local PMET salaries. Points vary based on fixed monthly salary percentile:
≥ 90th percentile: 20 points
65th to < 90th percentile: 10 points
< 65th percentile: 0 points
Academic Qualifications
Depending on the qualifications, these are the points:
Top-Tier Institutions
Qualifications from top-tier institutions earn 20 points on COMPASS.
Top-Tier Institutions
Qualifications from top-tier institutions earn 20 points on COMPASS.
Top-tier institutions include top 100 universities (QS World University Rankings), reputable Asian universities, Singapore's Autonomous Universities, and highly recognized field-specific institutions.
Degree-Equivalent Qualifications
Degree-equivalent qualifications earn 10 points on COMPASS.
These include foreign qualifications assessed comparable to a UK bachelor's degree by recognized bodies or industry-endorsed professional qualifications.
No Degree-Equivalent Qualifications
Candidates without degree-equivalent qualifications can pass COMPASS by earning enough points in other criteria.
Diversity
Diverse nationalities benefit firms by bringing new ideas, networks, and fostering inclusivity. COMPASS grants more points to applications with candidates from countries forming a smaller share of the firm's PMET employees. No points are given if the candidate's nationality already represents a significant portion of the firm's PMET employees.
Based on the share of candidate's nationality among firm's PMETs, here are the points:
< 5%: 20 points
5 to < 25%: 10 points
≥ 25%: 0 points
If the firm has fewer than 25 PMET employees, the application automatically receives 10 points. The firm's nationality share calculation is based on the passport nationality indicated in the Singapore Government's records for PMET employees, including Permanent Residents.
Local Employment Support
COMPASS recognizes firms prioritizing local workforce and balanced teams.
The points are as follows:
≥ 50th percentile: 20 points
20th to < 50th percentile: 10 points
< 20th percentile and <25 PMET employees: Default 10 points
If a firm's local PMET share is more than or equal to 70% (20th percentile economy-wide), minimum 10 points awarded. This avoids disadvantaging sectors with high local PMET share.
Skills Bonus
To fill job opportunities, Singapore collaborates with education, training institutes, and partners to train locals. However, foreign manpower is necessary due to limited local workforce and global talent competition.
Shortage Occupation List (SOL) recognizes EP holders in scarce skilled roles. SOL considers industry needs and local workforce development.
Skills Bonus Points Job on SOL gives you 20 additional points. Candidate's bonus points decrease from +20 to +10 if their nationality is one-third or higher of the firm's PMETs. Encourages diversity and resilience.
Tech occupation candidates on SOL may qualify for a 5-year EP duration.
Strategic Economic Priorities Bonus
Firms participating in eligible programs aligned with strategic economic priorities get an extra10 points. These programs include ambitious investment, innovation, and internationalization activities in partnership with economic agencies. Firms endorsed by NTUC for company and workforce transformation activities are also eligible.
Conclusion
The introduction of the point-based work pass system marks a significant step towards a more efficient and streamlined approach to work pass applications in Singapore. With its point-based evaluation system, COMPASS offers clarity and transparency for both employers and applicants, ensuring a fair and objective assessment process.
3E Accounting's team of experts is well-versed in the intricacies of the COMPASS system and can offer professional guidance, ensuring a smooth and successful work pass application process for our clients. Partner with us to optimize your workforce composition and harness the benefits of Singapore's thriving economy.