This post is also available in:

简体中文 (Chinese (Simplified))
Information on Singapore Employment Pass – Foreign Professionals Need to Know
Eligibility for Employment Pass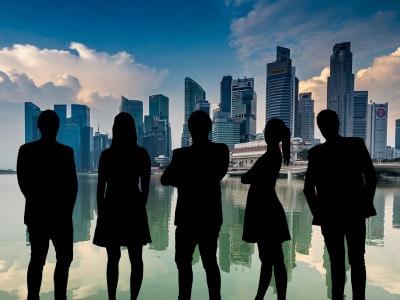 The Singapore Employment Pass is required for foreign professionals who plan to work in Singapore. The candidate must meet the criteria as follows:
Have a job offer a company in Singapore.
Work in a specialised job, or a managerial or executive position.
Earn a minimum fixed monthly salary of $5,000 (more experienced candidates will need higher salaries) and a minimum monthly salary of $5,500 for Financial Services sector.
Have acceptable qualifications such as a good university degree, professional qualifications or specialised skills (qualifications for unaccredited institutions are not accepted).
Additionally, only an employer or authorised third party can apply for a Singapore Employment Pass on behalf of a candidate.

Documents Required for a Singapore Employment Pass
To apply for an Employment Pass in Singapore, the following documents will need to be submitted to the Ministry of Manpower in the first stage:
Candidate's passport details (if the name on the passport is different from other documents, an explanation letter or an affidavit will be required).
Company's most recent business profile or instant information registered with the Accounting and Corporate Regulatory Authority (ACRA).
Candidate's educational certificates.
For online applications, a written consent from the candidate to apply for Employment Pass is required.
Additional documents may be required based on the candidate's application.
Application Procedures for Singapore Employment Pass
Online applications will take up to 3 weeks for most cases whereas manual applications will take up to 8 weeks for most cases.
The procedures are as follows:
Submit Online or Manually to Ministry of Manpower (MoM)
Manual application can only be done by companies not registered in Singapore. Online application can be done through MoM's website portal called EP online. Upon approval of the pass, an in-principle approval (IPA) letter will be issued. The IPA provides a time frame of 6 months to bring the candidate to Singapore to proceed with getting the pass issued. It will specify whether the candidate needs to undergo a medical examination, which can be done after arrival in Singapore.
Getting the Singapore Employment Pass Issued
The following information will be required:

Candidate's passport details.
Candidate's present Short Term Visit Pass or immigration pass.
Candidate's residential address in Singapore.
A local address for the card to be delivered to.
Contact details of at least one authorised recipient to receive an SMS or email on delivery details, you can nominate up to three recipients.


Once the pass is issued, a notification letter should be printed and given to the candidate. The notification letter will allow the candidate to start work and travel in and out of Singapore while waiting to obtain the Employment Pass. It will also state whether the candidate needs to register in person to have fingerprints and photo taken.

The notification letter is only valid for 1 month from the date of issue but you may request to extend the validity.

Register in person to have fingerprints and photo taken (only if required)
This step is only required if the notification letter states that the candidate needs to register in person to have fingerprints and photo taken. An appointment needs to be made for the candidate to visit the Employment Pass Services Centre (EPSC) within 2 weeks after the pass is issued. The candidate should bring the following documents:

Original passport
Appointment letter
Notification letter
Documents mentioned in the IPA letter and notification letter

Obtain Employment Pass Card
The Employment Pass card will be delivered to the given address 4 working days after the above procedures are complete. Authorised recipients will be notified through SMS or email at least 1 working day before the delivery. If card delivery fails after two unsuccessful deliveries, the card will need to be collected at the Employment Pass Services Centre (EPSC) by the candidate or an authorised person 3 working days after the second attempted delivery. If the candidate collects it, they will need to present their passport and the notification letter. If an authorized person collects it, they will need to present an authorisation letter from the employer and an identification card or passport for verification.
Application Costs
Application costs are:
S$105 for each Employment Pass application submitted
S$225 for each Employment Pass successfully issued
S$30 for each Multiple Journey visa (if applicable)
Rejected Applications
There are only two parties, the employer or the authorized third party, who can make enquiries and appeals about the Singapore Employment Pass application. There will be a time frame of 3 months to appeal an unsuccessful application, but the reasons for rejection will need to be addressed – this can be found in the EP online rejection advisory section.
Appeal matters will not be discussed in person and will need to be done through an online process. It will at least 3 weeks or longer before an appeal is processed.
Additional Details
Duration: An Employment Pass will last up to two years for first-time candidates, after which it can be renewed for another time period of up to three years.
Family Visa: Employment Pass holders are eligible to obtain visa passes for their family members to come to Singapore if they earn at least S$6,000 a month. To apply, the employer or authorized third party will need to submit a separate application for each family member. The application(s) can be submitted separately or together with the initial Employment Pass application.
Replacement of Card: If the Employment Pass card is lost or damaged, the employer will have to apply for a replacement within 1 week. This will cost $100 for the first replacement and $300 for subsequent replacements. Card collection time is 4 working days after approval.
Cancellation of Card: Employment Pass cards must be cancelled by the employer within 1 week after the last day of notice or 1 day after the card expires.