This post is also available in:

简体中文 (Chinese (Simplified))
Foreign Worker Quota Calculator – Have I Exceeded My Quota?
A Quick Guide to Understanding Service Sector Work Permits and Quotas – Before you hire more foreign employees, have you exceed your quota? A quick check using the foreign worker quota calculator will answer that.
What Is the Foreign Worker Quota Calculator?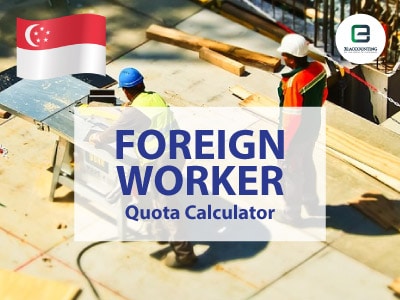 The calculator lets employers determine exactly how many S Pass and work permit employees they can hire. The quote is determined based on the sector your business is involved in. Another determining factor is your current workforce.
Work Permit (WP) Online has the most detailed and up-to-date quota, so it is always a good idea to regularly check this. The information is available here. WP online is a quick and easy function available to businesses, employers and employment agencies. You can easily perform the work permit transactions you need on this platform. This includes applying and requesting for work permit issuance.
WP online recommends that you log into your account at least once every 3-months. This is to ensure all your transactions are in order and minimize the risk of your account being terminated.
Singapore Work Permit Requirements in the Services Sector
Before your business can employ foreign workers in the services sector, you must meet comply with certain requirements. These requirements will be based on the nature of your business activity. It will also look at where the source country of the foreign worker is, together with the levy and quota requirements.
Information about meeting the requirements is available on the Ministry of Manpower (MOM) Singapore's website here. Only foreign workers who meet the conditions will be eligible for work permits.
Foreign worker quota can be calculated using the available foreign worker quota calculator tool. There are three categories to the quota tiers and each tier has its own levy rates. Details about the tier and the cost involved are available here.
Have I Exceeded My Quota?
To calculate your foreign worker quota, the calculator is available on MOM's website here.