This post is also available in:

简体中文 (Chinese (Simplified))
Learn About the 7 Start-up Government Grants in Singapore and Get the Funds You Need Today!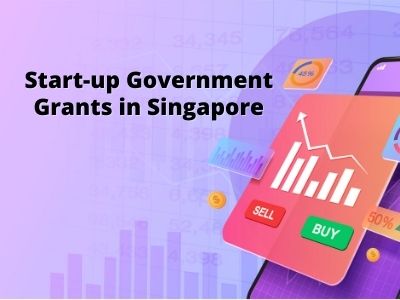 Starting up a business in Singapore and could really use the extra funds? Think you will have to fork out everything you have for your new business? If the answers are "yes," then we have good news for you. There are 7 Start-Up Government Grants in Singapore, and if you are eligible, they can provide you with a head start in your new business venture, procure the items you need as well as to pay for all the procedural fees that would incur. So, let's learn about the 7 Start-Up Government Grants in Singapore and get the funds you need today!
Here are the 7 Start-Up Government Grants in Singapore under Startup SG and how you can apply for them:
1. For First-Time Entrepreneurs: Start-up SG Founder
Startup SG was initiated in 2017 and had since served as a reliable platform in helping local first-time entrepreneurs in starting up their new businesses. Hence, Startup Founder started with the initiative to provide mentorship as well as start-up grants. These grants can be up to S$50,000 with the condition that the start-ups are required to raise and commit S$10,000. This means that the schemes match S$5 to every S$1 submitted by the business up to S$50,000 with the entrepreneur(s) investing S$10,000
The following details the application process:
Contact one of the Accredited Mentor Partners (AMPs) and directly submit your application.
Your designated AMP will evaluate your application based on; the uniqueness of business concept, feasibility of the business model, strength of management team, and potential market value.
Your application will take five working days to process, and you will be informed of the results.
Upon successful application, you will be given a letter of offer by Enterprise Singapore, and your designated AMP will be mentoring you over a period of 12-months.
Once your business has reached particular progress, the grant will be disbursed.
It is also equally important to note that your AMP may set you back up to 50% in equity of your start-up. Hence, it is encouraged that you find out about terms from your AMP before proceeding further.
2. For Tech Startups: Startup SG Tech
If your start-up is Tech-based, you can expect to get early-stage funding for the commercialisation of proprietary technology upon successful application. You can either apply for a Proof-of-Concept (POC) grant of up to $250,000 or a Proof-of-Value (POV) grant of up to $500,000. These are dependent on the stage of development of your technology or concept. A POC Grant is useful especially if your idea is still under conceptualisation and needs to be evaluated for viability, technically or scientifically. A POV Grant is helpful when, after the POC, you desire to develop a working prototype.
To apply for Startup SG Tech, there are three stages:
Download and fill-up the registration of interest form found on Startup SG website and email it along with a summary of your proposed project to enquiry@enterprisesg.gov.sg.
Upon being deemed eligible, you will be asked to submit a formal application which also consists of a full business proposal and cost breakdown of your start-up. You will be evaluated based on the criteria of innovativeness, technical feasibility and commercialisation potential.
If you are shortlisted, you will be asked to present your project to a panel of industry experts for a final evaluation.
Bear in mind that there will also be equity components similar to that mentioned before. You are also required to increase your paid-up capital by an additional of 10% for POC and 20% to POV.
3. Improving Productivity: Enterprise Development Grant (EDG)
EDG by Enterprise Singapore is aimed at supporting start-up projects and strengthens new business foundations. It also encourages innovation, productivity improvements and offshore expansions. It covers from 30% to 70% of qualifying project costs. These are dependent on whether your business is a Small Medium Enterprise (SME) or it is for expenses relating to software and equipment.
To apply for EDG, simply follow the following steps:
Identify the key project category and suitable service providers to support your project.
Sign in via Business Grants Portal with your CorpPass Account and submit a project proposal based on the template given.
Your application will be evaluated based on scope, project outcomes and competency of services provided.
Upon successful application, you will receive a letter of offer. This document will contain details about the terms and conditions as well as the amount of grant awarded.
4. IT Improvements: Productivity Solutions Grant (PSG)
PSG aids companies that are motivated to integrate IT solutions into their current existing business. PSG provides coverage of up to 70% of the costs of investment for government-approved long-term technology solutions.
To apply, follow these three simple steps:
Go to Tech Depot on the SME Portal and identify which approved IT solutions or equipment that suits your setup best.
Get a quotation of your desired choice from vendors (can be pre-approved or sourced by you).
Submit your application on the Business Grants Portal using your CorpPass Account.
5. For Social Enterprises: VentureForGood (VFG) Grant
This grant is for enterprises that either wish to start up or expand their operations. It is under the provision of the Singapore Centre of Social Enterprise (raiSE), supported by the Ministry of Social and Family Development. Up to S$300,000 in grants.
Follow the following steps to apply:
Email your pitch deck to vfg@raise.sg.
A 1-to-1 consultation will be arranged by raiSE within three weeks to learn more about your application.
Within three weeks of the consultation, you will be notified if you were shortlisted.
If you were shortlisted, you would be asked to submit a detailed proposal with financial projections for final evaluation. You will also have to attend for an interview and presentation. Your application will be judged based on social objectives, viable business positions and team cohesion. The final evaluation can be three to four months long.
If your application is approved, your company must register as a raised member and get incorporated to receive grant disbursement.
The social objectives are judged critically and should focus on addressing local social gaps, provision of employment opportunities and other aspects set by raiSE. Visit the raiSE Singapore Website for more details.
6. For Tourism-Related Businesses: Business Improvement Fund (BIF)
If your setup is based in the tourism sector BIF, offered by the Singapore Tourism Board, could be the grant for your setup. It encourages the use of technological innovations, adoption as well as revamping old business models. It is aimed to increase productivity and competitiveness. The amount of support depends on the size of your business and up to 70% of qualifying costs for SME applicants which includes; training costs, hardware and software costs, travel costs, internal manpower costs and third-party project-related costs. Non-SME applicants can expect up to 50% of qualifying costs.
The application involves two stages:
Pre-application: Send an executive summary about your proposed project to STB_Incentives@stb.gov.sg to find out if it is eligible for BIF.
Application: If eligible, you are to submit your application on the Business Grant Portal using your CorpPass Account. Attach along with your project proposal and relevant quotations for the qualifying costs.
The application will be judged based on how your proposed project can help improve the productivity and competitiveness of tourism companies.
7. Hiring PMETs: P-Max
P-Max by Workforce SG is an initiative to match hiring SMEs with job-seeking individuals. These can be Professionals, Managers, Executives and Technicians (PMETs). These PMETs if hired, will then be evaluated and placed in positions that suit their expertise the best or being sent to the P-Max programme, a two to the three-day workshop. Supervisors of SMEs will attend a one-day workshop. Over six months, both the SMEs and the PMETs would be monitored by follow-up if they had successfully applied what they had learnt via the given workshops. If over six months the new hire retains, you can be eligible for a one-off grant of S$5,000
To apply, contact the respective Programme Managers via the Workforce SG website (click on the "How to apply?" tab).
Require More Assistance?
Most of the start-ups discussed required that your company be incorporated before you can start applying. If that has yet to be done, you may employ corporate services firms and have them help you incorporate your company as well as settle the legal formalities on your company's behalf. Such services can assist you with the registrations, deadlines and legal requirements, allowing you time to be more involved in running your start-up.
It would be best if you also took note of the regulatory and compliance requirements mandated under Singapore Law. Many of the requirements, such as the appointment of a company secretary, can be fulfilled by your selected corporate service provider.