This post is also available in:

简体中文 (Chinese (Simplified))
Getting Business Localisation in Singapore Done Right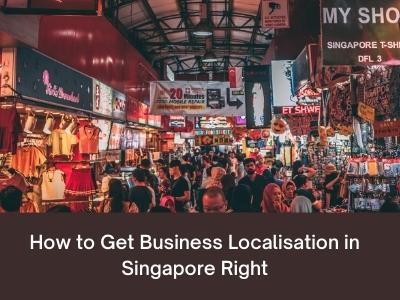 When it comes to expanding into global markets, a key buzzword is localisation. It is an essential element of any business strategy, helping seamless market penetration and increasing awareness of your business. Any savvy entrepreneur will undoubtedly want that competitive edge, and business localisation in Singapore is one way to do it.
Here, we take a quick look at business localisation and how to go about getting it done right. If you need assistance, 3E Accounting, as a premier Singapore corporate service provider, is just a click away.
What is Localisation?
Ensuring your product or service is international is a vital part of any successful global market expansion playbook. Localisation is a term that means making your business – service or products – appear locally built. Your business may have a global footprint, but localisation will make it 'belong' to a particular country.
In carrying out localisation strategies, companies usually go the simple route of providing translation services on their web pages. However, there is so much more to localisation than that. To get a local look and feel, localisation encompasses the following:
Local market preferences
Local custom
Social cues, e.g., local holidays, etc.
Local keys, e.g., colours, heritage, etc.
How to Make Localisation Work for Your Business
Resonating with your target market requires adapting to local cultural and social customs. People generally want a service or product they can identify with a language they understand. Business localisation in Singapore ensures your business is set for growth, aligning your business towards customer loyalty.
A good way to start localisation is to investigate market dynamics and knowledge. Singapore is a complex market, boasting a unique hybrid of local and international values. The go-to move of localisation – i.e., translation – shouldn't be top of the list as English is a lingua franca here.
Instead, it's best to take your localisation strategy a bit further by adapting to local culture. Consider rebranding or repricing to reflect local consumption. You can optimise your websites with locally driven SEOs (search engine optimisation). Even realigning the payment method will have an impact on business bottom lines.
Getting active on the local social scenes is also another great way to impact. Participate in local community activities or use local platforms to create awareness for your service or product. The result is to have a business having local origins, synergising with the market you want to penetrate.
Conclusion
Getting a better understanding of Singapore and its cultural norms is key to localisation. However, as any busy entrepreneur will attest, it's not always viable or possible to get things done alone. In such instances, having the right partners on the ground is crucial. Business localisation in Singapore can be a breeze with proper help.
To ensure you get your localisation rollout right from the get-go, consider engaging professionals in the arena. As an award-winning Singapore firm, 3E Accounting has a team of global professionals ready to assist. Our solutions are comprehensive, customisable, and wholly transformative. Get in touch with contact 3E Accounting today and make an impact locally.