Sole Proprietorship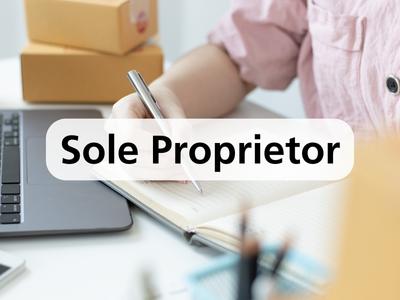 Summary: A business with a single owner who incurs all the losses and makes all the profit.
A sole proprietorship is a type of business that's wholly owned and run by one person. There aren't any partners involved. Thus, it's a good fit for relatively straightforward trades or businesses because of its speed and simplicity of set-up.
To start with a sole proprietorship, you must be at least 18 years old, a Singapore citizen, a permanent resident, or hold an eligible FIN.
Keep these specific points about sole proprietorship legal status in mind:
Characteristics of a Sole Proprietorship
It isn't a separate legal entity but is considered as the ownership of a person.
The owner shoulders unlimited liability, which means they're completely on the hook for the business's debts and losses.
The owner can sue or be sued in their personal name.
The business can't own assets or property under its name.
As a self-employed person, you must make payments into your Medisave account with the CPF Board before setting up, taking over, or renewing your business registration. To keep your business running, you must ensure your Medisave account is always topped up, or else you risk involuntary business closure.
Can Non-citizens Start a Sole Proprietorship in Singapore?
If you're a foreigner living outside Singapore and want to establish a sole proprietorship, you must appoint a resident at least 21 years old as your authorised representative. You'll also need to hire a registered filing agent to submit your application to the ACRA.
Foreigners living in Singapore must get permission from the MOM before starting a sole proprietorship. If you don't have a SingPass account, you'll have to use a registered filing agent to apply on your behalf.