Careers at 3E Accounting Pte Ltd in Singapore
We are Hiring Now. We Want You!
3E ACCOUNTING SINGAPORE is a Singapore-based firm that provides professional accounting, tax and compliance services for start-ups and small- to medium-sized firms. Our office is located in Novena, Singapore.
3E Accounting Pte. Ltd. is a Singapore-based firm that provides professional incorporation, accounting, tax, immigration and compliance services for start-ups and small- to medium-sized firms. Our head office is conveniently located in Novena, the central area of Singapore's Island.
We have been recognized by ACCA as an Approved Employer since 21 May 2012. The ACCA Approved Employer Program only names companies that ACCA recognizes to have high standards of staff training and development. With this award, you can be assured that 3E meets or exceeds global standards for its teaching and developmental support.
On 27 June 2013, 3E Accounting became the Accredited Training Organisaton (ATO) in Singapore. The Accreditation is given only for the company which provides adequate training and development opportunities for Candidates. We welcome the pioneer batch of Singapore QP candidates to join us today.
3E Accounting Singapore is growing quickly and is looking for bright individuals who thrive in a fast-paced work environment. 3E Accounting Singapore looks for good communicators who can articulate their ideas and understand the big picture surrounding the incorporation business. If you are energetic, dedicated and passionate, 3E Accounting Singapore wants you!
3E Accounting Pte Ltd is privileged to receive The NS Mark Accreditation for supporting National Service by implementing pro-National Service policies and human resource practices.

On February 2017, 3E Accounting Pte Ltd was proud to be recognised as the pioneer batch for human capital partnership. The endorsement of "Human Capital Partner" recognises 3E Accounting as the employers of choice as well as possessing the expertise in human resource management.
On October 2017, 3E Accounting Pte. Ltd. was being recognised as one of the Early Adopters of Tripartite Standards. Besides, 3E Accounting has adopted all the eight Tripartite Standards on Mar 2019.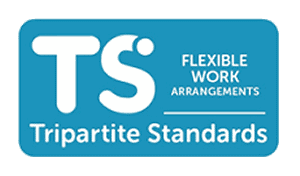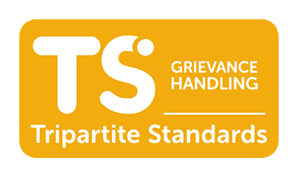 They were listed as an employer who have signed the Tripartite Standards, declaring that they have fulfilled all the requirements of specific Tripartite Standards, committing themselves towards adopting fair and progressive employment practices.
3E Accounting Singapore has various open positions and is looking for partners and associates who can be part of our dynamic team of accounting, taxation and corporate secretarial professionals. We're committed to helping you grow and succeed. Be a part of 3E's dynamic team of professional accountants, tax specialists, chartered corporate secretarial professionals and business managers!
If you've got what it takes, we invite you to email your resume to 3e@3ecpa.com.sg
3E Accounting Singapore provides excellent benefits:
Competitive salary plus performance bonus
Long-term service bonus
Retirement benefits
A conducive environment for your growth
Regular training
Five-day work week
Work-life balance
Flexible working hours
Our Core Values
1. Professional
Together, we aim for the highest standards of professionalism in whatever we do.
2. Productivity
We cultivate a work environment that encourages learning and a spirit of continuous improvement, to achieve optimal business results in a manpower lean economy.
3. Innovation
We value ideas and creativity to serve with forward thinking solutions.
4. Leadership & Teamwork
We foster trust and collaboration, set positive examples to develop good leaders who focus on sustainability and superior performance.
5. Empathy & Respect
We care about each individual's need and embrace their unique talents and honour diverse life and work styles. We operate in a spirit of cooperation and value human dignity.
6. Fairness
We value fairness and will not tolerate any discrimination. Employees are treated fairly based on their ability, performance, contribution and experience. We pledge to be a fair and progressive employer by setting policies and procedures that comply with the employment legislation and the Tripartite Guidelines for the well-being of employees.
7. Inclusive
We create an inclusive workplace that values the strengths and contributions of each individual and leverages their abilities, skills, knowledge and experiences.
8. Agility
We embrace change and ensure that our human resources policies and practices stay relevant and effective in engaging the workforce.
9. Sustainability
We develop sustainable employment opportunities anchored in a strong Singaporean core and a globally competitive, diverse workforce.