This post is also available in:

简体中文 (Chinese (Simplified))
Singapore's Food Services Industry Digital Plan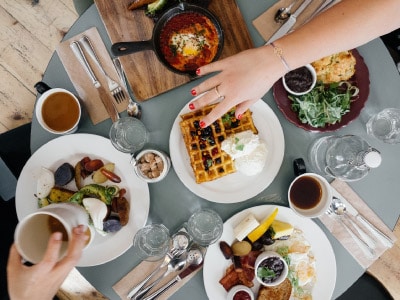 The Food Services Industry Digital Plan (IDP) was implemented as part of strategical initiatives by the government to help small and medium enterprises (SMEs) adopt more digital technologies and quicken digital transformation.
Food Services Industry IDP Digital Roadmap
All IDPs contain a Digital Roadmap which comes with a stage-by-stage explanation to guide SMEs along their journey to learn more about digital solutions and enhance themselves:
Stage 1: Getting the Digital Economy Ready
The first stage is designed for SMEs in the Food Services industry to make use of ready-to-go digital solutions in order to automate repetitive, manual tasks and optimize operations while enhancing a customer's experience.
Such solutions include:
Digital/online food ordering
Digital payment
Automated reservation
e-loyalty/customer relationship management
Wireless self-collection
Stage 2: Growing in the Digital Economy
The second stage provides for more advanced digital solutions in order to scale up the business and integrate digital technologies for better management of the entire business value chain. This stage will also make use of data analytics for further optimization and to identify new opportunities for improvement.
Examples of such digital solutions include:
B2B e-Marketplace/e-Procurement
IoT-enabled central kitchen management
Data analystics platform
Stage 3: Leaping Ahead
The third stage allows for Food Services SMEs to digitalise further by incorporating artificial intelligence (AI) in business operations.
Examples of these technologies are:
Sensing / video analytics for restaurant observation
AI-powered predictive ordering system Powered
Immersive training using augmented or virtual reality
Digital Roadmap for Skills and Training
With increased digitalisation in the Food Services Industry, the requirements for digital skills will also increase. Companies will need to prepare their employees by upskilling them through appropriate digital training.
The IDPs outline two types of digital training courses for basic and advanced users respectively:
Basic Courses
These are required for all users as they cover important foundations to improve digital literacy and awareness. Examples of such courses for the Food Services Industry include:

Introduction to Analytics
Embracing the Digital Workplace
Introduction to Cooking Robots

Advanced Courses
These are recommended for users who want to attain high proficiency in digital skills. Examples of such courses for the Food Services Industry include:

Automation & Digitalisation in Food Manufacturing
Robotic Process Automation
Blockchain Networks

Additional Support
SMEs are also provided with additional help through basic advisory or specialist consultancy services through SME Centres and SME Digital Tech Hubs. Resources available include self-assessment checklists for digital readiness, consultation to provide digital advisory or project management information, and more.