This post is also available in:

简体中文 (Chinese (Simplified))
Doing Business in Singapore VS India
When considering whether or not to start up a business in Singapore or India, it is necessary to weigh the pros and cons of doing business in Singapore vs India.
Advantages of Doing Business in Singapore
Singapore is a regional hub in Southeast Asia and can be more suitable to businesses that are looking for a quick and efficient business set-up. On the other hand, Singapore's market is much smaller than India and while its labour force is highly-skilled, it is also more expensive.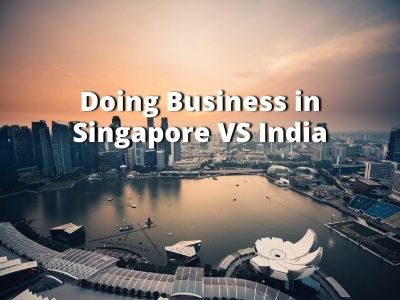 Here are some advantages of doing business in Singapore:
It is fast and simple to set up a business in Singapore
Singapore consistently ranks as one of the best countries for ease of doing business and it only takes 3 steps and an average of 3 days to incorporate a company.
Singapore has an efficient tax system that benefits business and corporations
Singapore has straightforward tax systems with a flat corporate tax rate of 17% and tax-friendly incentives for start-ups and corporations.
The infrastructure of Singapore is well-developed and has good connectivity
Singapore is a city-state that has a highly accessible infrastructure and facilities that are ideal for companies requiring efficient connectivity through trade and logistics. The country's facilities are constantly improving and competing to be the best globally.
Advantages of Doing Business in India
India has the world's second-largest market due to its large population and is a popular location for companies looking for cheaper labour costs. However, India's business system is not always friendly for foreign companies and it is more time-consuming to navigate its regulations and business culture.
Here are some advantages of doing business in India:
It is home to a large population of the low-cost workforce
Due to India's lower currency and standards of living, it is much more cost-efficient to set up large-scale businesses that have intensive usage of employees such as factories and logistical warehouses.
India has the world's second-largest market of more than 1 billion people
Companies wanting to attract a large market of consumers will be interested in India's large market. This is especially so as India's growing middle-class workforce prove a lucrative market to tap into.
The workforce of India has considerable skills in the IT field
The workforce of India is known for having a wide pool of talents for IT and digital skills that may be required for companies that have an intensive need for a large number of such talents. India has hence proven attractive for companies looking to outsource such skills.