Government Introduces More Measures for Job Support Scheme and Foreign Worker Levy
Extension of Job Support Scheme to Help Employers Retain Workers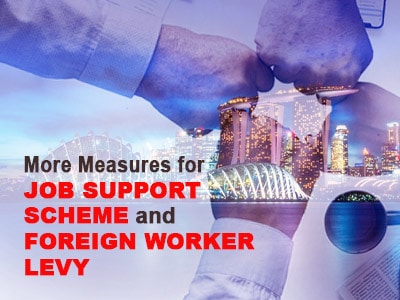 The Singapore Government is extending the Job Support Scheme (JSS) and rebates for Foreign Worker Levy (FWL) to help employers retain staff.
The Job Support Scheme will see wage subsidies extended by 75%. This is applicable for all sectors and will commence in May 2020. The JSS is meant to help employers retain their local workforce and continue paying them a salary during this time. Companies that have put employees on no-pay leave or reduced wages will correspondingly receive lower payouts.
The Ministry of Manpower (MOM) Singapore will be investigating reports of unfair practices. This ensures that the funds paid out in JSS will only be used to support salary payment.
Rebates for Foreign Worker Levy (FWL)
A Foreign Worker Levy rebate amounting to $750 will also be given for every Work Permit and S Pass holder. This is in accordance with the Solidarity Budget and applies if the holder of the permits has been employed as of 29 February 2020. Additionally, MOM has waived levies initially due in April 2020. The FWL waiver has been extended to May 2020 as well.
These measures are part of the Government's commitment to look after the livelihood of employees during this difficult time. With the support given to employers, MOM is reminding all employers of their duty to responsible and fair practice. This applies regardless of the employee's nationality. Threatening employees with termination is unacceptable practice. Any evidence of unfair practice may result in an employer being denied any future employment support measures.