Company to Focus on Jobs in the Energy and Chemicals Sector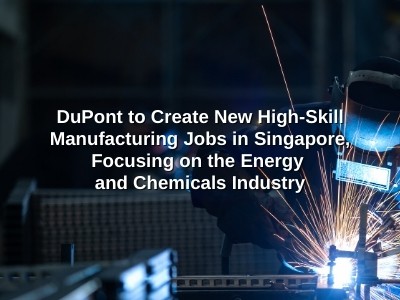 DuPont is set to create new high-skill manufacturing jobs in Singapore, focusing primarily on the chemicals and energy sectors in the country.
The plant known as Singapore Flexiblend is set to be the operational facility. Operations are expected to commence in the second quarter of 2021. The focus of the facility will be on the production of customised biotechnology solutions for the Asia Pacific region. The new facility will be a long-term commitment.
DuPont, a facility that is focused on enzyme-blending, also plans to entrench the country in the global supply chain. The focus of this venture will be on a supply chain for various products in biosciences and health.
The DuPont company hired 96 employees in Singapore. Out of this number, 77 of those employees were local Singaporeans or Permanent Residents.
A Testament to Singapore's Hub Reputation
The opening of this new facility is good news for Singapore. It is a testament to the country's position as a leading chemicals hub in the Asia Pacific region. Singapore has many opportunities in the chemical and energy sector, and a lot of these opportunities are growing.
The World Trade Statistical Review placed Singapore as the seventh-largest chemicals exporter in the world in 2018. In 2019, Singapore became the fifth largest petroleum products, exporter.
The increasing demand for more sophisticated chemicals that are also cost-efficient in Asia is growing. By 2030, it is expected to account for 66% of global chemical sales.
If you are looking to set up a business in Singapore, a global chemicals company might be one of the options to consider. Singapore's strategic position is working in its favour here. Since Singapore has robust intellectual property protection laws in place, it successfully attracts many international firms with its reliable logistics supply chain.
Long-term Prospects That Spell Good News for Singapore
The long-term prospects like the kind presented by DuPont spell good news for Singapore. In the long-run, it is going to create a lot of good high-skill manufacturing jobs for Singaporeans.
The Singapore Government is committed to supporting businesses. These efforts will help to develop an ecosystem in Singapore that is vibrant, thriving, and beneficial to all.
Looking to Setup a Business in Singapore?
Singapore is one of the most robust business hubs in the Asia Pacific region. Setting up a business here gives your business its best chance of becoming successful, especially with the local resources available to you. At 3E Accounting, our human resources services can help you position your business for success right from the start.
For more information about our Singapore company incorporation services and other services we offer, contact us today.