Victims Reporting of Lost Money to Tech Support Scammers Up to 40 Times More Than Usual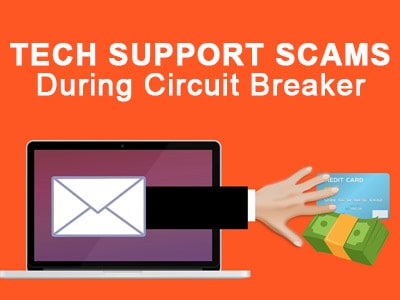 All over the world, most countries are under quarantine to curb the pandemic of Covid-19. The same applies to Singapore. Singapore implements restrictions to control the outbreak, and it is collectively known as the circuit breaker. The circuit breaker began in April and progressively extended until June 2020. Full restrictions have pushed non-essential trades to close shop. Offices all over Singapore are closed, and workers have to work from home. With more people working from home and going online, there has been a surge of online scams. Specifically, in the first four months of the year 2020, there has been a rise of tech support scams.
Online Scams
Online threats are inevitable. It is one of the reasons some people prefer using cash and conduct businesses in the old fashion way. But, in this digital age, one has to go online or risk being left behind. Going online has more advantages than being offline. More extensive outreach, convenience and quick response are the common ground preference of everything online. But, online users also need to be informed and keep themselves safe from digital thieves. There has been a variety of online scams going around for years on end. But recently, Singaporeans have lost up to S$7 million just in a matter of four months due to online related scams.
Modus Operandi
The latest rampant scam is that scammers are calling victims to tell them that their internet connection is compromised. The victims say that scammers posed as technical support staff from telecommunications providers. Believing that their internet connection is at risk, the proclaimed tech support advises victims to install software such as TeamViewer or AnyDesk to solve connection problems. These are remote access software where anyone can have access to the intended computer or gadget and do as they wish. In the scammer's case, they have access to the victim's banking accounts and quickly transfer money out.
Calm, Collected, Convincing
There is also another related technical approach by scammer tech support. It usually involves more than one person. The scammer will be calling victims and informing them that they have committed an offence and must download or install necessary software applications to help with investigations. Expert scammers will introduce themselves as officers of the Cyber Crime Department of Singapore or the Cyber Police of Singapore. These agencies never existed in Singapore. Some would go to the extent of offering their name, employee ID, and telephone number. Victims would usually comply at the first stage as they would believe the 'offence' and download the necessary. The scammer would then refer the victim to another person claiming to be from the Cyber Security Agency of Singapore. At the next stage of scamming, scammers will advise victims to make a fake transaction using their bank account. Some scammers produce a letter of authority from banks, albeit a false one. Even with multiple questions from victims, scammers are calm, collected and very convincing when answering all of them. Thus, placing the victim at ease to do as advised.
Bank Alert
Fortunately, most banks in Singapore are always on the lookout suspicious transactions and would immediately alert either the victims themselves or the police. Some banks will alert the police, and the police will contact the victims. By then, some victims have lost a significant amount of money and realised it was all a scam.