Singapore's Padang to Become National Monument Along with Elgin, Anderson and Cavenagh Bridges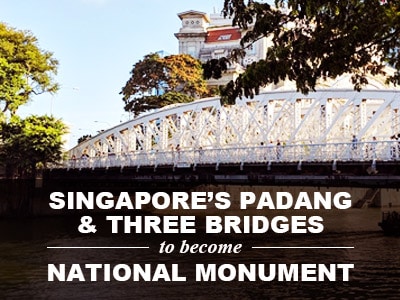 The Padang, along with nearby Elgin, Anderson and Cavenagh bridges in Singapore will soon be recognised as national monuments. Padang is the de facto town square, home of Singapore's National Day Parade this year.
As the de facto town square, the Padang has seen several historical events over the years. The three bridges in its vicinity reflect just how much Singapore has grown as a nation. It will become the first open, green national monument space in the republic. This is also the first time in history bridges are added to the national monument list. The additions come from the National Heritage Board's (NHB) Preservation of Sites and Monuments (PSM) division.
Upon its gazetting, these new additions will bring Singapore's national monument count to a grand total of 74. The Padang is a site that is rich in history. There is even evidence to suggest that it was here negotiations between the British and the Sultan of Johor took place. These negotiations marked a significant moment in history in 1819, leading up to a very important treaty signing. It was the treaty which would allow the British East India Company to establish a trading post right here in Singapore.
Since the 1800s, the Padang has been the common gathering place for the locals. The Padang was also where Palembang Prince Sang Nila Utama spotted a beast. This beast would go on to inspire him to rename Temasek (as it was known back then) to Singapore.
Among the other history moments which took place at the Padang include:
1959 – The Padang played host to the inauguration of Mr. Yusof Ishak, the man who would become the first President. This took place once Singapore became a self-governing state.
1966 – Singapore's National Coat of Arms was launch. It was also the year of the first National Day Parade.
Receiving National Monument Gazette
In Singapore, receiving the national monument gazette is quite an honour indeed. It is the highest form of recognition that a structure or site receives, signifying its importance. The NHB has stated that this gazette however, will not alter the how the site or its structures are currently being used.
As for the three bridges, they too will receive the gazette because the architectural significance. Out of the 14 bridges that span across the Singapore River, none are quite as significant as these three have been. They reflect how far Singapore has come as a trading port and a city that continues to flourish.
The announcement of Padang and the three bridges being gazetted as national monuments is in line with the Singapore Bicentennial. The timing is an ideal time to reflect on Singapore's rich 54-year history and to appreciate just how far the nation has come.