Singapore Becomes World's 17th Most Sustainable Investment Destination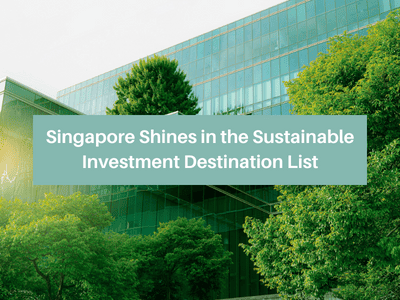 With an impressive leap of 18 spots in the rankings, Singapore has firmly secured the 17th position in the highly esteemed 2023 Global Destination Sustainability Index. This advancement underscores the city-state's commitment to making tangible strides towards a sustainable future. Within the Asia-Pacific region, Singapore proudly stands as the second-highest ranked city, trailing only behind Goyang, South Korea.
How the Index Evaluates Business Destinations?
The Global Destination Sustainability (GDS) Index evaluates cities across four pivotal dimensions: destination management, supplier engagement, social initiatives, and environmental performance.
Singapore's performance in these areas is commendable, with scores of 93% in destination management, 68% in supplier engagement, 84% in social initiatives, and 78% in environmental performance. As a result, Singapore's overall score in the 2023 GDS Index reached an impressive 81.83%, a remarkable improvement from its 2022 score of 71.14%.
This achievement is a testament to Singapore's dedication to sustainable practices, which is further exemplified by its recognition as the fourth most improved destination worldwide by the Global Destination Sustainability Index.
What Does this Mean for Investors?
Singapore's ascendancy to the 17th position in the 2023 Global Destination Sustainability Index carries significant implications for investors, aligning with a broader global trend of sustainable investing. This achievement reinforces Singapore's appeal as an investment destination, and here we delve into what it means for investors.
Attraction of Sustainable Investments
As investors worldwide are increasingly prioritizing environmental, social, and governance (ESG) criteria, Singapore's commitment to sustainability enhances its allure. This achievement can lead to an influx of investments in sustainable projects, companies, and initiatives within the country.
Enhanced Market Stability
The rise in sustainable rankings is a testament to the city-state's dedication to responsible business practices and ethical governance. Sustainable practices mitigate risks associated with environmental and social issues, creating a more robust investment environment.
Expanding Sustainable Industries
Investors should keep a keen eye on the sectors propelling Singapore's sustainability journey. This advancement hints at growth in industries such as renewable energy, green technology, and eco-friendly tourism. These sectors are poised for substantial development, offering lucrative investment opportunities for those who are quick to recognize them.
ESG Integration
Singapore's ascent reinforces the importance of ESG factors in investment decisions. Investors may consider these factors when evaluating the sustainability and resilience of their portfolios. By integrating ESG considerations, investors can align their investments with the country's sustainability goals, potentially reaping both financial returns and positive social and environmental impact.
Collaboration and Networking
Singapore's sustainability ranking is the result of a collaborative effort involving the government, businesses, and civil society. Investors should leverage this collaborative environment to build valuable networks and partnerships. Engaging with local businesses and sustainable initiatives can create opportunities for diversified investments and potential joint ventures.
Looking to Start a Business in Singapore?
The new sustainable investment destination rankings is just another testament to how great of a place Singapore is to conduct business. Ready to streamline your financial journey with precision and expertise? Let 3E Accounting be your trusted partner in success. Contact us today for tailored accounting solutions that drive growth and financial stability.