Singapore Secures 11th Spot Among the Best Cities in The World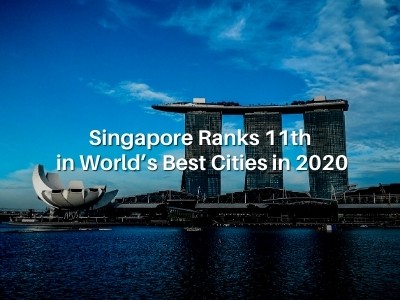 Singapore clinches the 11th spot in the annual world's best cities ranking in 2020. It moved up two spots from its 13th position back in 2019.
Singapore was ranked based on innovation, economic dynamism, transport, and environmental policies in the Schroders Global Cities Index. The boost in rankings comes mainly from its mass transit system and port that comes highly rated. The country is home to the third-best transportation system in the world and home to the best seaport in the world.
Excellence in the transportation system is a new category on which the countries this year are being analysed. The country's latest ranking puts it in third place behind Melbourne and Hong Kong. The transportation efficiency is an insight into how efficiently the city runs overall. Efficient transportation systems are viewed as essential to help support local social mobility.
The ranking cements the cities that investors should be turning to. These are the most promising countries with the biggest opportunities for international investors. Singapore has always been one of the best places in Asia to start a Singapore company. The fact that it ranks highly on the global scene too is a testament to its strong performance.
Singapore Is Innovative
In terms of the economy, Singapore, like many other countries, was hit hard by the pandemic. 2020 was the worst recession it has experienced since it gained independence. However, Singapore is innovative to make a strong comeback.
With quality educational institutions and a highly talented, capable, and skilled workforce, this is one country you want to keep your eye on. Singapore is already home to many of the world's top companies. Companies both big and small have found tremendous success in the region.
For more information about the Singapore company incorporation services we offer, contact the 3E Accounting team today.