Singapore's Phase 2 Reopening – More Shops and Activities Permitted 19 June
More Outlets and Social Gatherings of Up to 5 People Allowed From 19 June Onwards
Singapore's Phase 2 reopening will see more retail outlets and dining in at F&B's allowed from 19 June onwards.
Activities That Will Be Resuming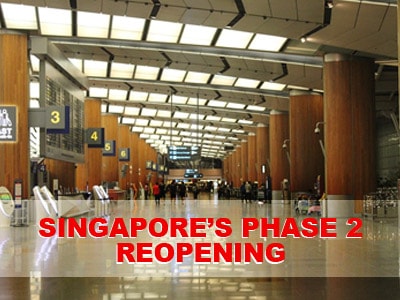 Permitted activities in the second phase include tuition and private enrichment classes that will be allowed to commence. Some exceptions are to be expected. The reopenings will be subject to safe distancing measures.
Other activities expected to resume in Singapore's phase 2 reopening are:
Small social gatherings of no more than 5 people (including guests at home).
Physical outlets of retail stores can open.
Home-based businesses.
Personal health and wellness.
Registered clubs and societies.
Elderly care services.
Individual health screenings.
Aesthetic services.
Face-to-face visits for the elderly at residential facilities.
Beaches.
Playgrounds.
Swimming complexes.
Gyms and fitness studios.
Bowling centres.
Function rooms.
Larger public venues subject to limited capacity.
The situation has been assessed by Singapore's Multi-Ministry Taskforce. The taskforce has given the green light to go ahead with the reopening. The reopening will be done in three stages in total.
The rate of infections within the community has generally been stable. This is despite the increased activity with Phase One reopening. No new clusters of the virus are emerging. The number of cases among migrant workers in dormitories has also been declining.
Singapore started gradually exiting the "circuit breaker" period state it was in for 2-months. The quarantine was a necessary precaution to curb the spread of the COVID-19. Despite the reopening, businesses and employees should still telecommute where feasible.
Individuals are still expected to stay at least one metre apart even during Singapore's phase 2 reopening. This is a default safety measure. No groups should be mixing with each other at this stage too. Safe management measures should continue to remain in place.
Singapore's phase 2 reopening will also have specific guidelines for certain settings and activities. These include:
Weddings
Funerals and wakes
Workplaces
Institutions of higher learning
Schools
Any business who is not able to meet the safe distancing measures requirement should seek further approval. Contact the relevant authorities for alternatives to the safe distancing measures.
By the time Phase 3 is ready, more religious, cultural, social and business events should resume. However, gathering sizes must still be limited.
Travelling Into Singapore
Any traveller coming into Singapore must undergo a testing regime. This regulation will be in place beginning 17 June 2020. Travellers in and out of Singapore beginning 17 June must pay for their own COVID-19 testing where applicable. If you are not a Singaporean or Permanent Resident, you must stay at the designated SHN facility where applicable.
For more details about inbound travelling related to COVID-19, click here.