Singapore is World's Smartest City: IMD Smart City Index 2019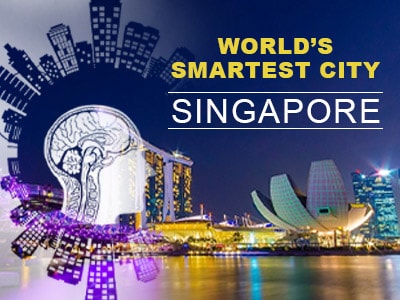 Singapore has been named the World's Smartest City, according to the inaugural IMD Smart City Index 2019. The Index ranked 102 cities worldwide based on their smart technology integration. Jointly presented by IMD World Competitiveness Center's Smart City Observatory and Singapore University of Technology and Design ("SUTD"), the global index ranks cities based on how citizens view the extent and impact of smart city implementations, balancing economic and technological aspects against humane factors.
Singapore Topped the List as the World's Smartest City
The citizen-centric global index gauges a city from the perceptions of 120 surveyed residents randomly picked from the participating city, who were surveyed on two pillars: structures (the city's existing infrastructure) and technology (the technological provisions and services available to the residents). Each pillar was evaluated in five key areas of health and safety, mobility, activities, opportunities, and governance.
Singapore topped the list as the World's Smartest City with Zurich coming in second. Oslo, Geneva, and Copenhagen took the next three spots, followed by Auckland, Taipei City, Helsinki, Bilbao, and Dusseldorf to round off the top ten. For the record, Singapore is one of two Asian cities that made to the Top 10 list out of 102 cities. Singapore performed superbly well across the board which includes good performance in public safety, lifelong learning opportunities provided by local institutions, having green spaces, as well as having online access to job openings.
Smart City Index
Singapore's high-quality infrastructure and technology integration to improve Singaporeans lives are the key winning elements that won the country the top place in the Smart City Index, Mr Christos Cabolis, the chief economist at IMD Business School's Competitiveness Centre highlights. Mr Ng Chee Khern, Permanent Secretary (Smart Nation & Digital Government), sees the index as a useful reference for policymakers working on Smart Nation programmes with the focus on citizen and business centricity.
The Index stood out for its value in benchmarking smart cities worldwide because it has been uniquely designed to capture the fine balance between smart city implementations versus the perceptions of the residents towards implementation. The Index thus changes how cities will be viewed where "smartness" no longer gauged purely by technological advancements, but also by the citizens' perception. And Singapore has come up tops, as the World's Smartest City according to Singapore residents.