Singapore Economy Grows 4.4% In the Third Quarter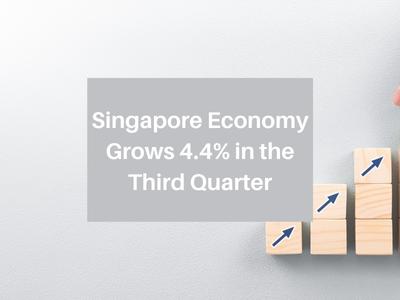 The Singapore economy grew 4.4% in the third quarter of this year. The growth is supported by the strength of the services and construction sectors.
However, in the third quarter, the economy only expanded 1.5% on a quarter-to-quarter basis. Part of the growth in the third quarter stems from the construction sector. In the third quarter, the sector expanded by 7.8%.
Strong Rebound of the Tourism and Construction Sector
July and September saw public and private construction improve with more migrant workers coming back into the country. Wholesale, transportation, retail and storage sectors grew collectively by 6.2% in the third quarter compared to a year ago.
The wholesale trade sector growth was thanks to the drive for machinery, equipment, and supplies. The resilient performance of the non-oil export volumes in Singapore accounted for this.
Growth in the services sector was recorded at 9.2% in the third quarter. This includes food services, administrative, accommodation, support, and administrative services.
Rebounding Stronger Than Ever
The easing of Covid-19 restrictions has helped the Singapore economy rebound to where it is right now. This is compared to what it was a year ago within the same period, where Covid-19 restrictions dampened growth.
Manufacturing, for example, grew 1.5% year-on-year in the third quarter of this year. This was slower than the 5.7% growth in the previous quarter.