The Republic Will Not Rely on Its Population, Geographical Location, or Natural Resources Alone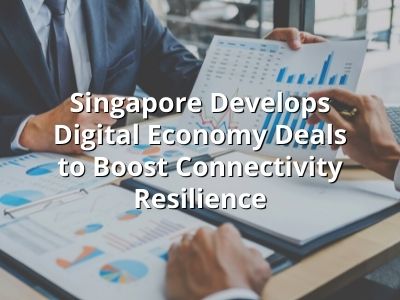 Singapore is developing digital economy deals to boost its connectivity and resilience. This is one approach the Republic has available to remaining relevant in the world.
Singapore won't rely on its population, geographical location, or natural resources alone. Instead, the Republic is going to create its relevance. To do this, it aims to devise a strategy of connectivity. It aims to be more connected by overcoming supply chain and geopolitical challenges.
Digital economy deals are going to help it stay relevant across physical and non-physical dimensions. The physical dimensions include sea, land, and air. The non-physical dimensions are targeting finance, talent, technology, and regulations.
The Rise of a New Geographic Trade
The new way of doing trade is defined by its connectivity rather than demography or distance. However, lower transportation costs and the rising digital economy are among the many factors that are reshaping global connectivity.
These days, when a company decides where to invest, they look for data connectivity and financial flow among other things. They want to invest in countries that have intellectual property standards. They want to invest in countries that can remain connected to the global market, even when a crisis happens.
This is one of the many reasons why Singapore is developing digital economy deals to help meet this demand for connectivity. Even with the changes, the rivalry between the United States and China remains in the international system. However, neither system in either country is expected to collapse anytime soon.
An Inclusive and Connected World
As for Singapore, the Republic is striving for a world that is more inclusive and connected. Singapore does not adopt the zero-sum mentality. Instead, it wants to work with like-minded partners for better global trade and security.
In a world that is full of uncertainties, Singapore's aim is to provide all investors with a safe harbor. A place where coherence and consistency take precedence to boost company incorporation.
If you would like to start a company in Singapore, contact 3E Accounting and ask how our Singapore Company Incorporation Services can help you.