Business and Certain Activities and Services to Resume Operations Gradually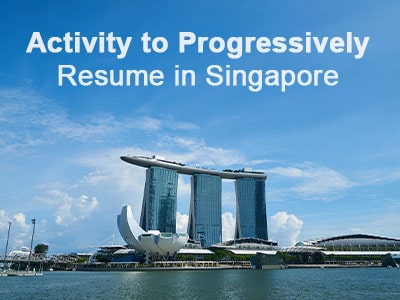 Singapore's Multi-Ministry Taskforce will gradually ease the strict circuit breaker measures progressively. The easing will be done progressively in stages.
Simultaneously, the Government is working on gradually resuming the community and economic activities in a safe manner. Digital Solutions like Safe Entry check-in and check-out will be used and deployed pervasively.
Singapore has seen a significant reduction of the COVID-19 transmission in the last month. This is thanks to everyone doing their part and practising safe social distancing measures. Average new cases daily have reduced by more than half. But Singapore is not in the clear just yet. Caution still needs to be exercised and safety measures put in place as the restrictions are lifted.
Economy and Work Premises to Open Gradually
Work premises are set to open gradually in phases to minimise the potential risk of transmitting the virus. Employers and businesses will need stringent measures and comply with requirements that will be implemented. Safe management practices must now be an integral part of business operations. Employers will need to take proactive steps to identify practices and situations that potentially prove to be high risk.
Where possible, staff should still be allowed to work from home. Social distancing measures must be enforced at the workplace. Break times and work hours need to be staggered. Businesses will also need to ensure that cross-deployment does not take place among staff or at worksites. When at work, everyone should wear a face mask. No gatherings are permitted, and this includes going out in groups during lunch break.
The Ministry of Trade and Industry, Ministry of Manpower (MOM), and other relevant Government agencies will announce more details on workplace safety measures down the road. The Government will, in the next few weeks, work with Trade Associations and Business Chambers. Together, they will help businesses prepare for the rigorous requirements once they open again.
Some Activities and Services to Resume Gradually
The following activities and service can commence operations from 12 May 2020:
Takeaway/delivery for food retail outlets (cakes, confectionary, snacks, desserts)
Manufacturing and onsite preparation of all food
Delivery/collection for home-based food businesses
Barbers/hairdressers (basic haircut services)
Retail laundry services
Retail of pet supplies
More information about the list of services will be updated here as we go along.
Students can begin to resume in-person lessons in May, but in small groups. Students undergoing national exams and graduating students will be the focus. Sports and any recreational facilities in private residences will still be closed. However, walking and exercising around the facility is allowed.
TCM acupuncture is another service allowed to reopen on 5 May. This has been deemed and essential practice. Practitioners registered with TCM will resume the sale of retail products for Singaporeans' needs.
There will still be restrictions on the movement of migrant workers daily in and out of dormitories. The number of cases recorded is still in the high range, especially in the dormitories. The restrictions will be extended until 1 June 2020, the end of the circuit breaker period. The Multi-Ministry Taskforce will keep a close eye on the progress and make any necessary adjustments needed.
Safety Lies in Social Responsibility
Social responsibility remains a key component to slow the spread of the virus. Despite the easing of the circuit breaker measures, everyone must continue to play their part. Stay home where possible and minimise contact or movement unless necessary. Maintaining good personal hygiene always is necessary. This includes wearing face masks when outside the home.
The battle is far from over, and the easing of measures does not mean Singaporeans can take things lightly.