Understanding Entrepreneur Pass and Work Visa in Singapore – Choose Wisely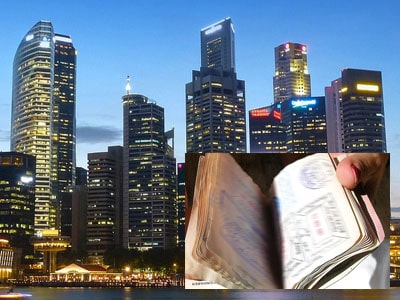 There is no work visa in Singapore; the government offers a work permit or work pass through which foreigners can work in Singapore and entrepreneur pass to the individuals who wish to start a new company in Singapore. The work permit in Singapore offers many benefits to the foreigners apart from paying salary such as:
Health insurance to foreign employees
A security bond.
We offer services for obtaining a work visa in Singapore by helping you select the right kind of visa which meets your requirement.
What Are the Requirements to Obtain a Work Visa in Singapore?
The applicant must have a passport
The age of the applicant should be 18+
The applicant can work according to the work of scope as per the work permit
Types of Work Visa in Singapore
Personalised employment pass: Foreign professionals who are earning high
S Pass: Applicable for mid-level professionals earning around USD 22k
Employment Pass: Singapore authorities issue this type of work visa to managers and executives who have a specific educational qualification
Work Permit for foreign yet domestic workers: This kind of permit is given to the workers living in Singapore but are foreigners
Work Permit for international professionals: This is given to workers engaged in the line of construction, marine, shipyard, manufacturing and other service sectors in Singapore.
Entre Pass: An entrepreneur pass is given to the candidates interested in setting up a new business in Singapore
Training Employment Pass: This is permitted to the professionals who want to undergo training in Singapore for a year with a stipend of USD 3000
Work Holiday Pass: This is given mostly to students who are willing to work in Singapore during their vacations
Miscellaneous Work Permit: This is given to the professionals who want to conduct short term work for two months
Training Work Permit: This is allocated to foreign graduates who wish to do their training in Singapore for six months.
Work Permit in Singapore for Artists: This is applicable for people interested in working in entertainment clubs, hotels, bars etc.
How Can You Apply for a Singapore Work Visa?
Following are the steps which you need to follow for a Singapore work visa:
You need to submit a work visa application. Carefully select the type of work visa in Singapore for which you want to apply.
Start preparing for the visa arrival
Get the work permit issued
You need to register your photo and fingerprints
You need to return your old and obtain the new work permit in Singapore.
Entrepreneur Pass in Singapore
The EntrePass is given to those entrepreneurs who are willing to invest in Singapore and run a new company. The entrepreneur pass must be obtained within six months of company registration in Singapore, and it is valid for two years.
Eligibility Criteria for Entrepreneur Pass:
An investor, innovator or entrepreneur can obtain an entrepreneur pass, and he needs to meet the following requirements:
The applicant must have 30% of the share in the company
The company must be a private limited company which must be registered with the Accounting and Corporate Regulatory Authority.
There are specific requirements for the different investor, innovator or entrepreneur:
Entrepreneur:
The entrepreneur must have good experience in handling business and should have a record of sustainable business under his leadership
The company must be funded by a business angel investor or Government venture capitalist
Innovator:
The innovator must have an intellectual property
It should be collaborated with A* star university for conducting research studies
The candidate should have vast knowledge and must have expertise in the area and must be related to the business being set up in Singapore
Investor:
The only requirement for the investor is that he must have an excellent record of investing the businesses which grew excellently in this competitive world.
At 3E Accounting, we help you in obtaining different types of work visa in Singapore along with obtaining Entrepreneur pass. We understand your requirement and carefully select the type of work permit.
You can get in touch with us via phone call or email and our team will get back to you shortly regarding work permit pass in Singapore.