This post is also available in:

简体中文 (Chinese (Simplified))
Everything You Need to Know About S Pass Application in Singapore
Do you want to live and work in Singapore? Then a work pass is what you need to secure, the S Pass, for example.
What Is an S Pass?
An S pass is a work permit in Singapore. It allows the holder to live and work in the country. S Pass's available to mid-level skilled employees.
S Pass Eligibility 2022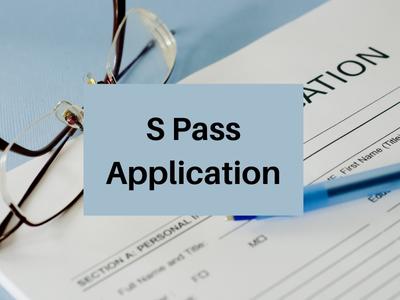 As of 1 September 2022, you will need to meet the qualifying salary and other requirements to be eligible for an S Pass. By 1 January 2023, S Pass quotas will also be updated. The changes were introduced to improve the quality of the visa holders, putting them on par with the top one-third of the local workforce.
To be eligible, you must earn at least $3,000 a month (except in the financial sector). Those working in the financial sector must earn at least $3,500. The salary requirements will increase progressively with age.
By 1 September 2023, applicants must meet the salary threshold of $3,150 and $3,650 (finances) to qualify for 2024 renewals. From 1 September 2025, the salary threshold will be $3,300 and $3,800 (finances) to qualify for 2026 renewals.
From 1 September 2023, the new S Pass levy will be $550. By 1 September 2025, it will be $650.
Who Can Apply?
Employees who meet the eligibility criteria can apply for the S Pass. Employers can apply on behalf of applicants. An appointed agent may also apply on the applicant's behalf. S pass holders must apply for a new pass when they change jobs.
An S Pass is eligible for renewal if applicants meet the eligibility criteria. You can check your eligibility using the Ministry of Manpower (MOMs) Self Assessment Tool. It is available on their website.
If a pass holder earns $6,000 or more monthly, they may apply for a Dependent Pass for their spouse or children.
What Employers Need to Know
Before employers can apply for an S Pass, local jobs must be advertised on the MyCareers Future website. Employers must be fair when considering candidates per the Fair Consideration Framework (FCF) requirement.
Advertisements must specifically and clearly state all job requirements and the salary offered to the S Pass Applicant. Furthermore, the adverts must advertise for a period of 14 consecutive days. This will allow job seekers enough time to apply.
Employers must not discriminate against candidates unfairly on criteria that are not related to the job. This includes gender, nationality, race, or age. Employers in Singapore must follow the Tripartite Guidelines on Fair Employment Practices.
Some employers may be exempt from advertising for practical reasons if they meet the eligibility requirements. This includes if the company has less than 10 employees and the fixed monthly income of the vacancy is $22,500 and more. Employers do not need to advertise if the vacancy is short-termed and if the position is filled by a local transferee.
How Are Salaries of S Pass Holders Paid?
As an employer, you must pay your S Pass holders via electronic methods. This includes payment methods like funds transfer for GIRO payments. All salaries must be paid electronically within 3 months from the date the S Pass is issued.
It is recommended that you keep records of these salary payments as proof. Electronic payments are a mandatory requirement and employers who fail to comply can be prosecuted. This may go on your record when future work pass applications are assessed.
There are several electronic payment options available. The General Interbank Recurring Order (GIRO) is the most common option. Other options include internet funds transfer, transfer via standing order, or ATM funds transfer. Funds transfer done over the counters are also available.
However, there are exemptions to the electronic payments rule. You may be eligible for exemptions if the wages paid are for overtime work, payment for the final month of employment, or if the S Pass is issued for less than 3 months.
Documents Required to Apply
To apply for an S Pass, you submit a personal particulars page of your passport. If your passport's name differs from your other documents, you must upload an explanation letter along with other supporting documents.
The fee for an S Pass application is $105 for each pass. Once the S Pass has been issued, the fee is $100 for each pass. Applications are submitted to MOM and generally processed within 3 weeks for 85% of applicants. Applications can be submitted online and checked online.
Employers must buy a Primary Care Plan (PCP) for employees if the employee is staying in a dormitory. A PCP is also needed for those working in the Construction, Marine, or Processing (CMP) sectors once the in-principle letter of approval has been issued.
Employers must declare that they have purchased a PCP for the applicant via the myMOM portal. All applicants must be fully vaccinated against COVID-19. This is a condition that must be fulfilled for the S Pass approval.
Other Requirements to Fulfill
There are other requirements you must fulfill as an S Pass holder. For example, you must hold medical insurance for the duration of your visa period. The insurance coverage should amount to at least $15,000 annually.
You must notify the MOM of any changes to your situation. This includes change of address, passport, salary, occupation, or any other details pertaining to your visa.
If your S Pass card is lost or stolen, you must make a police report right away. There will be a fee of $100 for a lost card. The fee will be $300 for subsequent losses. Damaged cards will incur a fee of $60.
By the way, you can use a self-assessment tool for S Pass to know if you're eligible.
What Happens If An S Pass Application Is Rejected?
If your S Pass application is rejected, you have 3 months to appeal the rejection. However, you should only appeal if you can provide a valid reason to address the rejection. The outcome will not be changed unless you are able to properly address the rejection.
An employer or an authorised third party may handle the appeal. Appeals directly from the applicants will not be considered by MOM. 85% of appeals will receive an outcome within 3 weeks.
How Do I Renew My S Pass?
The same conditions as the initial S Pass application apply when you submit a renewal request. Employers must buy a PCP and make a declaration via the myMOM portal. In application, applicants should have had complete vaccination against COVID-19. Renewals are available for up to three years, and the renewal will be complete within 3 weeks of making the application in most cases.
Cancelling an S Pass in Singapore
S Pass cancellations must be made once the applicant no longer works for the employer. Once the cancellation has been made, the S Pass card must be cut up and disposed of. The employer must make cancellations within one week from the employee's final day of notice.
Unless the employer is submitting a cancellation in advance, all S Pass cancellations are immediate. Advance cancellation notices can be submitted 14 days in advance. Employers can cancel the S Pass one week from the employee's departure date if the employee is leaving Singapore for good.
Before cancellations, employers must give notice within reason of the employee's repatriation. Employers will need to seek tax clearance approval from the Inland Revenue Authority of Singapore (IRAS). All outstanding employee issues must be resolved prior to the employee's departure.
Employers will need to buy an air ticket and pay for any connecting transportation costs that may be incurred at the international port of entry. If the employee's S Pass card has already expired upon their departure, then cancellation is not necessary.
Cancellations can be made using the myMOM portal. Employers are able to request a 30-day STVP. This will allow the employee to obtain a valid visa to stay in Singapore temporarily after their S Pass has been canceled.
The 30-day STVP will be emailed to both the employer and the employee. The employee must present this STVP and a valid passport to the immigration officer when departing Singapore.
Get in Touch with 3E Accounting
If you require assistance obtaining an S Pass in Singapore, 3E Accounting can help. We can act as the authorised third party and handle all your visa and documentation requirements from start to finish.
Get in touch with our friendly team today to find out more about our S Pass application services.