This post is also available in:

简体中文 (Chinese (Simplified))
3E Accounting Singapore and OCBC Bank Announce Iconic Strategic Partnership
3E Accounting Singapore is pleased to announce that it has joined forces with OCBC Bank Singapore, one of the largest banks in Southeast Asia that has been consistently ranked among the World's Top 50 Safest Banks by Global Finance and has been named Strongest Bank in Singapore by The Asian Banker in 2015-2017, to provide the better-than-expect one-stop services in Singapore.
Having recognized as the OCBC Valued Partner since 2013, 3E Accounting Singapore's role in this strategic partnership is to connect its valuable customers with the top-notch financial services from the OCBC bank. Under the partnership, customers will have the privilege to enjoy personalised service with OCBC Bank Singapore as they offer you financing solutions for your everyday business needs.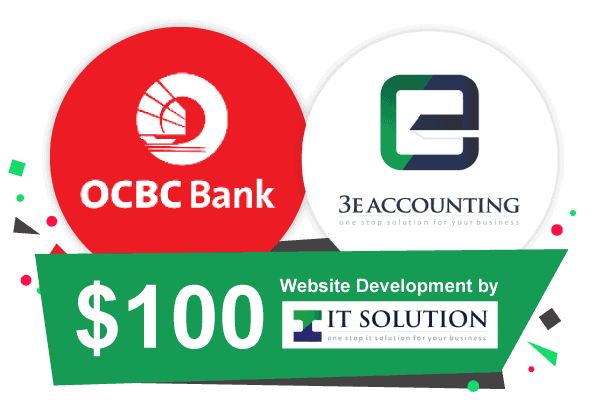 To celebrate the recently announced collaboration, we're giving away $100 discount (for web site development) from IT Solution! You can use $100 discount to offset the web site development services by IT Solution.
Who Is 3E Accounting?
3E Accounting is the leading service provider providing company incorporation, accounting, tax, payroll, immigration and compliance services to start-ups and SMEs in Singapore. With our home-grown global accounting network, we can support business ventures to more than 55 countries worldwide.
We have been awarded as Singapore Brand Awards Winner, presented by Singapore Brand. We are being specially selected as the Best Company Registration Specialist of the Year in Singapore.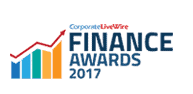 We have been awarded as one of the Finance Awards Winner 2017, presented by Corporate LiveWire. We are being specially selected as the Company Incorporation Services Provider of the Year in Singapore.
What are the Winning Combinations from 3E Accounting and OCBC?
$100 Discount from IT Solution for web site development To celebrate iconic partnership, we're giving away $100 discount from IT Solution for web site development! You can use $100 discount to offset the Web site development services by IT Solution.
Dedicated OCBC Business Banking ManagerYou may need more than a one-size-fits-all financial service. An OCBC Business Banking Manager offers you the expert guidance of a financing professional who understands the market and investment trend. With this, you have the privilege to enjoy a personalised banking experience with the dedicated Business Banking Manager where he or she can meet with you in our office and assist in bank account opening, wealth management, and go through the necessary banking procedures like the form filling procedure.
Best Company Incorporation packages
The Best Singapore company registration services package at S$428 W/GST will include:

Payment of professional fees for the company incorporation
ACRA company name check and reservation worth S$15 (unlimited check of company names)
ACRA incorporation fee worth S$300
FREE first year ".com" domain name registration (upon incorporation, sent your request to: info@itsolution.com.sg for registration)
FREE digital advisory consultation for SME Clients on digital business transformation.
FREE standard Constitution (formerly known as Memorandum & Articles of Association; The memorandum and articles will be merged into a single document called the constitution with effective from 3 January 2016)
FREE first board resolutions
FREE issuance of share certificates
FREE business profile
FREE e-notice of Incorporation
FREE resolution to open a company bank account
FREE one-year corporate secretary services
FREE bank introduction especially UOB, OCBC and account opening services in Singapore
FREE advisory on compliance requirements
FREE tax planning and GST advice by Our Certified Tax Agent and GST Agent
FREE monitoring of filing deadlines for one year by our Compliance Officer through email
FREE incorporation consultation services
FREE Google Workspace email setup for up to two users (excluding Google Workspace Subscription Charges)
Enjoy a $100 web site development services discount if you are a client under the UOB or OCBC or DBS Exclusive Promotions. Discount is applicable for any web site development services to be provided by IT Solution.
FREE annual return submission to ACRA
Providing a qualified accountant as the nominee company secretary and Corppass administrator of your company
Preparing minutes of first annual general meeting (AGM)
Add on a 12 months registered address services at Goldhill Plaza at special price of $100 (W/GST $107) for 1st year. Renewal from 2nd year onwards is at $300 (W/GST $321) only. For package detail, please click Registered Address Services.
Add on one company seal inclusive of resolution at S$107 W/GST (companies no longer required by law to have a common seal)
Add on one company stamp at S$27 W/GST

Company Registration and Bank Account Opening Process

Follow the two-step formula to be eligible to enjoy the primer banking experience and high quality end-to-end service from 3E Accounting Singapore!

Step 1: Register a Company in Singapore

Completed online incorporation form (must have company name, brief description of business activities, paid-up capital, registered address, shareholders/directors, share allocation). Refer our Guide to Register Singapore Company Registration to get a clearer idea of how to register a company in Singapore and what documents you need for the incorporation process.

Step 2: Open an OCBC Business Account

3E Accounting will assist to arrange for the appointment to meet up with the OCBC Business Banking Manager in our office.

Alternatively, you can opt for OCBC Remote Account Opening:


Eligibility requirement
Businesses registered in Singapore

Fees and charges
Initial deposit
Not applicable

Fall below fee
Not applicable

GIRO and FAST transaction
Free

Monthly service fee
S$10 (Waived for the first 2 months)

Pricing guide
Download here

Terms and conditions
Business Account Terms and conditions

Deposits Insurance Scheme
Singapore dollar deposits of non-bank depositors and monies and deposits denominated in Singapore dollars under the Supplementary Retirement Scheme are insured by the Singapore Deposit Insurance Corporation, for up to S$75,000 in aggregate per depositor per Scheme member by law. Foreign currency deposits, dual currency investments, structured deposits and other investment products are not insured.
(Insured up to $75k by SDIC).

Insured Deposits Register
Download register of insured deposits document for more information.

Expected Turn Around (ETA)

3-5 Days for Online Application

Complete the online incorporation form .
We will check the availability of the company name and get back to you within 24 hours.
Once the information is received and the name is confirmed, we will email you our invoice for payment. Upon receipt of payment, the company name will be reserved at your request.
We will then email you all the documents for signatures.
Upon receipt of the scanned signed documents, we will need 24 hours to perform the basic verification of your identity.
Once the verification is done, we will proceed to incorporate the company within two hours.
Once the Singapore company setup, we will email you all the completed documents (i.e. Constitution / Memorandum & Articles of Association, business profile and various other documents).
For fast delivery, we can courier the company stamp to your designated address or you may collect the stamp at our office.

2 hours for Walk-in Application

Visit our office to submit your information as required above.
Make your cash payment.
Your company will be setup within two hours!

For more information, please contact us at info@3ecpa.com.sg