Beginner's Guide on Starting an Auto Parts Business in Singapore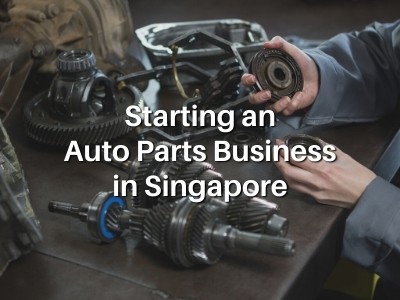 The automotive industry has been around for ages. What makes up a car is the parts of it. Automotive parts are here to stay for as long as automotive is needed to transport cargo and humans. As much as the automotive industry innovates for the better, so will the auto parts. Auto parts are responsible for vehicle facelifts, body kits, or other relevant innovations. Starting an auto parts business would render it highly reliable to the economy.
When you get the keys to your dream vehicle, you should know it comes with heavy responsibility. Caring for a car or a bike, or an SUV is likened to caring for your own body. Besides needing fuel to drive it around, it requires you to maintain it to function well. Thus, there is no telling that starting an auto parts business may render you obsolete.
An auto parts business is among the lucrative businesses that anyone could own. You can find a niche to sell only a specific auto parts brand or become a jack of all brands. There are also many segments within the auto parts industry where you can start an auto parts business. Hence, here is the guide to starting an auto parts business in Singapore, which explains the industry practice, business registration, licenses, and permits.
Parts That Make the Industry
The auto parts industry may not be the consumer highlight of the automotive industry. All the automotive industry shines, and blings usually make target market consumers drool at the full item. The perception of the brand influences consumer decisions to purchase. Once smitten, the target consumer now has a significant responsibility to maintain their automotive.
Routine Servicing
Starting an auto parts business in Singapore plays around with the notion that vehicles will need to get their routine services done. Thus, even a basic regular service will require a change of parts of the car. Each brand or vehicle type will need various parts to accommodate this essential servicing. Hence, your auto parts business could look into this segment of supplying the necessary features required for the routine servicing of vehicles.
Wear and Tear
It is only natural that vehicle owners may seek to change specific auto parts due to wear and tear. However, this may not happen often, usually applies to broken down cars or vehicles met with an accident. Other vehicles such as public transportation may also need necessary auto parts changes after several years of continuous use.
There might be plenty of these auto parts businesses in Singapore, but you never know if you could carry a niche brand and its uncommon auto parts as an added value to the vehicle owner.
Adding Personal Touch
Some vehicle owners feel the need to personalize their automotive vehicles. This is on top of the manufacturer's standard. It makes them one with their car. As a result, the auto parts involved in the modifications and accessories segment may differ from one car brand to another.
Then again, every modification is subject to the law provision in Singapore. Some changes hinder the function of the vehicle. Hence, it is deemed unnecessary. Others may pose a higher risk if encountered with a collision.
However, all is not lost as there are many more auto parts modifications allowed in Singapore. The key is to ensure it is installed by qualified personnel according to the vehicle and product manufacturer's recommendation.
New, Compatible, or Not
The auto parts industry in Singapore has several auto parts options for consumers to choose from. Among them are:
Original auto parts – Manufactured and imported from the same vehicle brand. Quality product is understood as the same as what they get when they purchase a car or vehicle.
Original equipment manufacturer – Manufactured elsewhere to fit specific auto parts of car model or brand. Product quality may be as reliable as the original manufacturer, minus the brand perception.
Generic auto parts – Manufactured elsewhere to be compatible with a wide range of vehicle brands. Product quality is subjective.
Second-hand auto parts – Taken from scrapped vehicles in Singapore.
With the COE in place, one may think that starting an auto parts business in Singapore could be worthless as there are limited numbers of vehicles to supply to. Think more significantly, as there are public transportations that are necessary to connect the entire island. Some brands may even make tiny specific tweaks to each vehicle model. Hence, there is always an opportunity to start an auto parts business in Singapore. The key is to create a detailed market study before deciding.
The Business Registration
Once you have enough data to convince yourself to incorporate a company, do so with Singapore company incorporation services. A team of experts will also help you to search for a suitable company name to ensure you get a good start. Besides that, the team will prepare all necessary documentation so that you can focus on your business.
Nevertheless, here is a quick guide on the process:
You would need to decide on a company name.
You need to determine the type of company. Be it an LLP or a partnership or a sole proprietorship.
Get in touch with a guide to company registration in Singapore.
Moving on, register your business with the Accounting Corporation Regulatory Authority (ACRA). You will receive a Unique Entity Number (UEN). Please keep this number safe as it is the lifeline of your legit business in Singapore. Next, using the UEN, get the business registered with the Inland Revenue Department for tax and GST purposes. Finally, depending on your company type, you may need to appoint a director, company secretary, and other key employees.
Permits and Licenses
All businesses in Singapore require a license to operate. You may apply for a business license after you have registered the business. But if you are concerned or confused about what kind of licenses are needed for your business, here's a quick guide.
There are several government agencies in charge of specific business licenses. If you have searched high and low and could not find any, maybe it is time to get a corporate service provider in Singapore to help you. Chances are, you may have stumbled upon it but were unsure if it is the right one.
Starting an auto parts business in Singapore may require you to import the necessary parts to sell. Thus, you should be in contact with Singapore Customs and apply for a permit to import goods. As with all current businesses, your auto parts business can have an online store as well. In addition, companies in the auto parts industry may sell to other businesses such as workshops or directly to customers. Thus, there are endless opportunities for business in this industry. Contact us at any stage of your business for assistance and we will help sort things out.