Beginner's Guide on Starting an Advertising Business in Singapore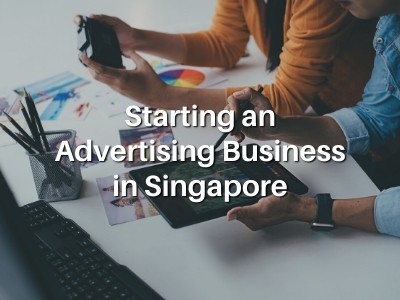 In Singapore, advertisements are almost in every corner you glance at. You probably see hundreds of ads on your way to work or in your run to get groceries. Nearly every product or service is advertised through some form of media. Curious about starting an advertising business in Singapore? You've come to the right place – keep reading!
There are no products or services that are too small for advertisements. Even items as small as single-cell batteries have their own ad! However, you should know that there's more to advertising than meets the eye. Advertising is a form of marketing communication that informs and educates customers on the latest economic consumption. Therefore, it is beneficial to plenty of parties.
With ads, everyday people get to gain product and service knowledge. This allows them to make active comparisons and make better judgments, hence, becoming smarter users. Apart from that, advertising has opened a door for various jobs, especially in the creative and artistic sectors. The stable careers produced in the advertising field have certainly increased the overall employment rate in many countries around the globe.
If you want to know how to navigate through the advertising market in Singapore, you've arrived at the right place. In this guide, we'll be diving into what the advertising business is all about. But, most importantly, we'll give you the best tips on how to break into the advertising industry and where you can find quality help. So get ready to start an advertising business in Singapore today!
For more information on setting up a company, you can check out this guide to company registration here.
What Is an Advertising Business?
An advertising business helps people to market their products and services. Every business, product, and service relies on advertising to build a clientele base. Many companies take advertising very seriously and invest a large amount of money to increase their brand awareness. Hence, they engage with advertising businesses or agencies to run and manage their campaigns on behalf of. Some of the services an advertising business can offer is:
Designing advertisements.
Creating and implementing campaigns.
Improving upon the client's design.
Offering professional advice on strategic planning.
Increasing client's brand invisibility.
Managing client's social media content.
And more. SG company incorporation can make the process of starting an advertising business in Singapore more bearable by offering timely and professional advice along the way.
Breaking Into the Advertisement Business
Surely enough, you would know that the advertising business is a lucrative field. However, as profitable as it is, the advertising business also comes with an equally competitive market. So, how do you not only compete but dominate the advertising market?
Your competitors have been in the advertising market for quite a while with a solid client base. If you wish to become their rivalry, you need a steady business strategy. Are you going to introduce a new form or a new fusion that will change the advertising game? Or will you improve upon traditional and modern advertising methods?
If you are not quite the innovative kind, do not fret. There are other facets you can focus on. For example, you can offer your clients a great-value-for-money price, impeccable high-quality service, or cutting-edge advertising technologies. The bottom line is, you should identify your unique selling points, leverage them to satisfy your clients' advertising criteria.
Keep in mind that your onlooking audience will decide whether or not to become your clients based on what you can bring to their table. Your clients want to know how you will be able to solve their advertising and marketability problems. Similarly, the same principle applies to your client's customers too. If you are not offering anything new or creative that adds value to your clients, your entrepreneurial advertising journey might be a little more challenging.
People go to advertising businesses or agencies with the ultimate goal of gaining more clients and maintaining existing ones. As an advertiser, your role is to help these clients reach out and engage with a bigger audience. Sometimes, all you might need is a reliable corporate service provider near me to assist you, like 3E Accounting.
What Licences You Will Be Needing
First, you must register your business with the Accounting and Corporate Regulatory Authority, also known as ACRA. In Singapore, ACRA is the regulatory body that is responsible for business registration. Apart from that, ACRA also facilitates financial reporting and corporate service providers in the country. After obtaining your advertising business with ACRA, you can move on to getting the proper licenses.
Keep in mind that there are no two identical businesses. Therefore, some advertising businesses may require more or fewer licenses from you. That said, the location where you'll be placing your advertisements will determine the licenses you need. For example, if you plan to place your advertisements on buildings, you will need to apply for the Building and Construction Authority (BCA). Likewise, you will need to obtain Land Transport Authority (LTA) to place advertisements on their car fleet.
Planning to place your advertisements on private buildings? Then, you will personally need to contact the individuals or corporations responsible for the private establishment. Besides, if you offer online advertising services, you will need an Internet Service and Content Provider License. Technically, as a content provider on the internet, you will automatically be licensed with the Class License Scheme. Aside from that, you have to be compliant with the Class Licence Conditions and the Internet Code of Practice. Read more on Singapore's Infocomm media industry here.
Need a Hand? We Got You
Regardless of what type of advertisement you choose to commercialize, the advertising business is a lucrative venture if done right. Undoubtedly, starting an advertising business in Singapore is not an easy task, all the more if this is your first time setting up a business. However, if you leave the formalities to the professionals and focus on your company's core, we're here for you. For a smooth and seamless company incorporation service, you can reach out to us at 3E Accounting.
Globally recognized, we have more than a decade of experience helping our clients set up and assist them in managing growing their business. Our multidisciplinary team offers you a comprehensive, one-stop business solution at a cost-effective rate. Ready to embark on starting an advertising business in Singapore? Contact us today!