Beginner's Guide on Starting a Kindergarten Business in Singapore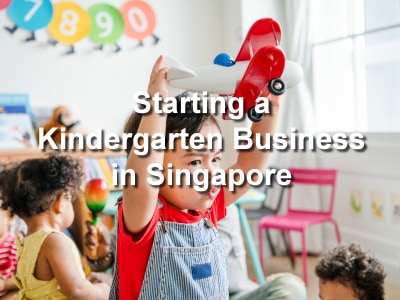 Singapore is the best country in the globe to raise children, and there are many foreign immigrants migrating to Singapore. With the abundance of foreigners and the country's increasing population, the kindergarten business is growing. So, if you're thinking of starting a kindergarten business in Singapore, it'll probably benefit you in the near future.
Kindergarten is a school for children aged around 3 to 6 years, and it runs for about three years. Kindergarten education is usually provided as a five-day session per week. The school is mainly concerned with the mental development of the children and enhancing their social skills. Apart from these, the teachers are dedicated to developing the language skills, problem-solving abilities, and other abilities of the children.
Unlike other businesses, kindergarten is not that easy and simple to start. You need to obtain different licenses and get your business registered as per the law. Also, you should hire a professional and skilled person who can educate the children and understand their psychology. However, the firm and stable government of the country makes it easier in Singapore for you to proceed smoothly.
Now, if you want to start a successful kindergarten business, you should understand the related issues and regulations in Singapore. Then, you can seek professional advice and plan your business track. Overall, your business success depends entirely on your startup and management process. In this article, you'll learn all about starting a kindergarten business and making it successful.
Things to Consider While Investing in Kindergarten Business
Even though the business is easy to start and operate, you should consider several things that may affect your business. Here are some points that you must keep in mind before starting a kindergarten business in Singapore.
Capital
You need to estimate the budget for your business. You may come up with several hidden costs that may affect your business profits. Therefore, you must preplan the overall registration, license costs, cost for paying staff, rent, etc.
Location
This is the most important factor that you should consider. The major success of your business depends upon the location you choose. You should check for your competitors, the population size in that locality, and if access to the location is feasible.
Employee
Once you set up your kindergarten, you'll require staff for managing the premises and educating the child. You must be careful about hiring the best teacher for children as it aims for the reputation of your business.
So, these are some of the important things that you must count on before starting a kindergarten business. Following these guides will undoubtedly lead you to success.
Advantages of Starting a Kindergarten Business in Singapore
There are plenty of advantages that you can provide to your customers through Kindergarten business. Read further to get the experts' opinions regarding the pros of the kindergarten business.
Kindergarten provides opportunities for children to learn basic skills like following directions, maintaining sanitation, etc.
Kindergarten helps children to build social skills and adapt to new environments.
Kindergarten encourages emotional development in children. The preschool teaches the children to share and feel empathy towards other children.
Kindergarten establishes the physical development of children. Many campaigns and sports activities help children to be fit and healthy. Physical development supports the learning ability of children.
Kindergarten contributes to the quality of the education a child receives. A child gets exposed to numerous children of different localities, cultures, and races.
These are some of the benefits you can provide to the public in Singapore by starting a kindergarten business. The growth and development of the child surely make you satisfied and happy.
Registration Guide Starting a Kindergarten Business in Singapore
Registering your business is the final step to starting a kindergarten business. The registration of kindergarten business is done with the Ministry of Education. While registering the kindergarten, it's necessary to register the curriculum and details of all the teachers. The curriculum must be comprehensive and help the children to develop social skills, language skills, and other essential abilities.
Besides, it's mandatory to submit the education plan. Your education plan should specify the class routines, teaching methods, resources, materials, and learning outcomes. Also, there are specifications for teachers that they should obtain licenses in teaching early childhood care and education. The teachers should also have a minimum B4 level in English and acquired a GCE 'O' level certificate.
The whole process takes around 14 working days, and you need to pay 400 SGD for the registration. 3E Accounting is a popular and long-time experienced corporate services provider in Singapore. We can provide a comprehensive guide to company registration with customized services.
Licenses and Permits Needed for Starting a Kindergarten Business in Singapore
Like every other business requires business licenses and related permits for setting up a business, a kindergarten business also requires one. Let's look at some of the permits and licenses that are required for starting a kindergarten business in Singapore.
Business License
Obtaining a business license makes your corporation legal in Singapore. Next, your business can be identified easily. It also assures the standardization of your preschool.
Planning Permits for Premise
The size of the classroom and the number of students should be planned. For this, you need a permit from the URA (Urban Redevelopment Authority of Singapore). You must understand the rules of URA and comply with them. Generally, the premise of Class XII approval is required for the kindergarten premise.
Building Work Permit
This permit is required if you're planning to renovate the building. You should apply to BCA (Building Construction Authority of Singapore) for obtaining the building work permits. Also, after the completion of work, you should have a Statutory Completion certificate from BCA before occupying the renovated space.
Permits for Advertisement
If you intend to put the business sign in the building, you should submit an application to the BCA for an advertisement license.
Safety Certificate
The children in your kindergarten should be safe and secure. Thus, you need to get a safety license and an FSC (Fire Safety Certificate) before occupying the building. You can obtain an FSC certificate from a registered engineer by making an application to Singapore Civil Defense Force.
You can contact a corporate service provider in Singapore to get help acquiring the licenses for your business. The corporate service provider also assists in acquiring the related licenses that are necessary for your business to comply with the laws and standards.
Easy Tips for Starting a Kindergarten Business in Singapore
Here are the necessary steps you should adopt for making your kindergarten business successful.
Name Your Kindergarten Business
This is the first step to starting your kindergarten business. Make the name unique and avoid the terms such as college, university, international, conservatory, and Singapore. You can only use such terms by the permits from the concerned authority.
Select Your Business Structure
Once you have named your school, you should look for the business structure. Many kindergartens in Singapore are initiated as sole proprietorships or private limited companies. These business enterprises are easier to start with and relatively faster. Yet, you have to comply with some specific regulations.
Prepare a Business Plan
It's a difficult thing to do, but a little bit of hard work sets a track for your business. It's necessary to incorporate the budget, resources, facilities, staff, operations, marketing strategies, vision, and mission of your business. You'll have a documented track of your kindergarten once you have a business plan.
Find a Location
You can start a home-based or rent a place for beginning a kindergarten. If you're renting, make sure to check the licensing guidelines, and that the location is viable.
Establish the Policies
Develop policies for employees, parents, and children. Make protocols for health, safety, and crisis management. Plan the curriculum for the children and prepare handbooks.
Market Your Kindergarten Business
The last but most crucial step is to make your kindergarten known to a wide range of people. You can advertise your kindergarten through online portals, local events, and blogs. Keep your marketing efforts that will form a strong platform for attracting customers.
Follow these easy steps for your kindergarten startup. Otherwise, 3E Accounting is the premier provider of company incorporation that will undoubtedly help you with your business startup.
Conclusion
This is everything you need to know about the kindergarten business in Singapore. If you have any queries regarding legal proceedings, feel free to contact us. We'll be happier to guide you and address your concerns regarding all business matters.