This post is also available in:

简体中文 (Chinese (Simplified))
Beginner's Guide on Starting a Jewelry Business in Singapore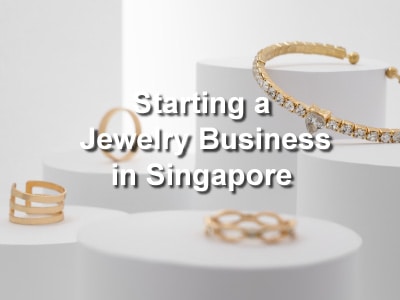 Singapore is considered a business hub for entrepreneurs. It's famous for precious metals, and therefore it's a perfect place for starting a jewelry business. Not only domestic entrepreneurs but also foreign business people looking for investments can start a jewelry business in Singapore.
Starting a jewelry business is always profitable, and you can earn a good fortune. You can start this business at home or any commercial space, depending upon your comfort zone. Pieces of jewelry and ornaments add beauty to the life of people who carry them. And, it's the best feeling when your business is adding value to the life of your clients.
You may have seen many jewelry businesses being successful and great failures. This all depends on how much a business person is dedicated and passionate towards their business. For the success of your business, there should be commitment, confidence, necessary skills, and proper marketing techniques.
This article explains to you the summary of the jewelry business in Singapore. You'll get to know about the process of starting the business, regulatory procedures to make your business legal and lots more.
Steps to Set Up a Jewelry Business in Singapore
The jewelry business is already a popular business in Singapore. Therefore, you must compete with the existing business to make your business unique from the rest of the business. Here are the best ways for starting a jewelry business in Singapore.
Choose Your Niche
You can create varieties of designs of jewelry. You can choose to offer DIY products or neatly designed and branded varieties of jewels. Once you narrow down your niche, define your customers and offer the best services.
Research
To be effective and produce profitable results in your business, it's necessary to understand the trend of the market. You can do this as a habit by reading jewelry blogs and fashion magazines. Or, you can also just check websites from your competitors.
Be Creative
You must be creative and innovative to stand out among the mass of jewelry businesses. Try to grasp the client's taste and create extraordinary products for them.
Workplace
You can choose to work from your comfort. You can either start a jewelry business at your home or rent a space. Make it easily approachable to your customers and make sure to have good transportation amenities around your workplace.
Brand Your Product
Once you've created your masterpiece jewels, it's time for you to create a brand. On the one hand, it enhances the image of your business, as well as the customers, who can easily locate your products.
Outsourcing
A beautifully designed jewel with clear-cut gems and stones obviously requires skill at hand. You don't need to worry if you don't have such skills. You can simply hire an employee for such a task.
It's, therefore, a simple task if you track your paths properly. Moreover, a corporate service provider in Singapore provides you with sufficient assistance for your business progress.
Important Guides on Registration for Starting a Jewelry Business in Singapore
The primary step for starting a jewelry business in Singapore is to register your business. If you're continuing your sales of jewels such as diamonds, gold, silver, etc., you're violating the laws of the country. You may also be charged for such violations.
For the registration process, first, select the unique name for your business and make your articles of business incorporation documented. Once you've completed these steps, then apply for registering your business by filing those documents with the Singapore Trade Register. 3E Accounting is a corporate service provider that helps you with company registration in Singapore. It assists you in drafting and preparing business articles.
If you're a foreign business person starting a jewelry business in Singapore, you'll still need to register for the business. Also, you need to obtain CORP PASS for running your business. However, if you're in the business for only 90 days, registration may not be required. But still, you may encounter problems selling your business if it's not registered.
You can gain lots of advantages by registering your jewelry business. Registration provides security to your business, and customers can be more confident to buy your products. In the same manner, you're not abandoning any laws which also ensure the quality of your product. It doesn't take much time either for registering, so you can apply immediately for registration for starting a jewelry business.
Permits and Licenses Required for Starting a Jewelry Business in Singapore
There are certain licenses and permits you should obtain for starting a jewelry business. Firstly, a business license is obviously mandatory and you also need to obtain an import license, export license, and pawnbroker license. Apart from this, you may also require other different licenses depending upon the localities you set your business. You can contact local authorities and fulfill any additional requirements.
A business license makes your commercial activities legal to conduct in the country. Export and import licenses are necessary for transporting or making deals with foreign countries. Likewise, an individual is also mandated to have a consumer credit license to be a pawnbroker. The license for pawnbrokers is issued by FCA (Financial Conduct Authority).
The minimum capital for starting a jewelry business in Singapore is 2 million SGD which you must have. There are some requirements that you should meet to obtain a pawnbroker license.
Firstly, if you own a business, you must do it in an outstanding manner.
Then, you should have insurance for the jewels that you intend to sell to the clients.
Next, you must provide a bank guarantee or insurance of 100,000 SGD to the registrar.
These are the basic licenses and permits you should have for starting a jewelry business in Singapore. For assistance and guidance in Singapore company incorporation services, you may seek assistance from 3E Accounting.
Tips to Keep in Mind When Starting a Jewelry Business in Singapore
Till now, you've gained a general overview of legal proceedings and starting a jewelry business in Singapore. Now, you'll learn things that you must be aware of to be successful in this business.
Always yearn to learn new things about your business. Don't be manipulated by the critics and focus on your goals.
Make a habit of surfing the websites, learning the market trends, and reading jewelry blogs. It keeps you updated with the modification and competitors.
Avoid procrastination. Utilize your time effectively and be dedicated to delivering services and beautiful products to your clients.
You should plan your workspace. Make a separate corner for your business if you're doing it at home. But, you can also rent a space for making jewelry.
Promote your business. Make the websites and introduce your products in an elegant manner. Moreover, you can write something appealing about your business.
Build skills to highlight your products in an eye-catching manner on your website. You can do this by maintaining proper lights and experimenting with your cameras.
Also, the jewelry business is not always about making and distributing products in the market. You can expand your business by organizing training workshops, making tutorials and selling them, etc.
The final thing is you must be committed and dedicated to your work. You should be patient during the hard times of your business.
Therefore, these are some of the points that will absolutely help you get success in your jewelry business.
Conclusion
To sum up, these are all about starting a jewelry business in Singapore. A professional business person can easily come up with ideas and start such a business as it's an easy process. Moreover, 3E Accounting can help you through experience and knowledge to get more business success in a very short time. Feel free to Contact 3E Accounting to get our professionals to help you start your business.