Preparing for Blockchain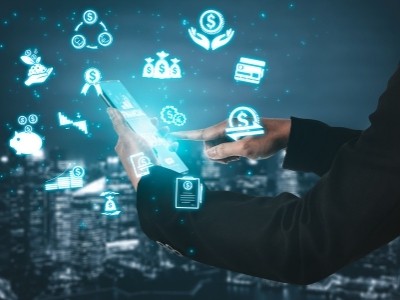 With the introduction of emergent technologies such as Artificial Intelligence (AI), blockchain and Machine Learning (ML), the accounting profession was enhanced. Technology plays a huge role in improving the efficiency of accounting professionals but at the same time, it makes certain roles redundant.
Hopping on the trend of Industry 4.0, back in 2019, 3E Accounting founder Lawrence Chai formed the firm's Digital Research and Development (DR&D) team to lead development in new technological growth areas like robotics business automation (RPA), ML and AI. Today, 3E Accounting is the first firm in Singapore to adopt robotics technology.
What Is Blockchain
In general terms, blockchain is a decentralized digital ledger consisting of records called blocks to record the transactions across many computers securely and efficiently. Any involved block cannot be altered without the alteration of all subsequent blocks.
In accounting terms, blockchain is concerned with the transfer of ownership of assets and maintaining a ledger of accurate financial data.
Value of Blockchain
Just like other automation trends, blockchain is able to perform transactional-level accounting work without the need for accountants. By reducing the need to perform tasks like data entry that can be done with blockchain, it frees up resources to focus on other activities like valuation and analysis. With accountants focusing on other tasks other than record-keeping, it widens the scope of accounting into areas like influencing how technology is used for accounting in the future and data analytics.
Blockchain augments the accounting profession by reducing the costs of maintaining and reconciling ledgers and providing resources to improve efficiency. For example, as the accounting profession is very particular with regards to the rights and obligations over assets, using blockchain, it provides transparency over the ownership of assets and the existence of any liabilities.
Implications of Blockchain
Blockchain could potentially change the way audit works, with auditors focusing on the judgmental elements instead of the repetitive mundane work. For example, with blockchain's ability to show the financial transactions, it reduces the need to perform procedures to confirm a company's financial status.
With blockchain being a potential replacement for manual repetitive tasks like bookkeeping and reconciliation, the skillsets required in the accounting profession will change. The accounting professionals need to upgrade their skills to stay relevant to keep up with the change happening in the industry, such as exploring in areas like technology, advisory or other value-adding activities.
3E Accounting's Digital Journey
Following the expansion of 3E Accounting and aiming to transform the business through technology, the firm continued investing time and effort to refine technologies used. As part of 3E Accounting's digital journey, a digital master plan was developed by 3E Accounting's DR&D team to map out the business's digital transformation and in just 15 months, the team successfully completed the digital transformation of 3E Accounting with all services offered to be fully processed digitally.
3E Accounting has completed several projects including KYC Automation Software, QR Code Technology and Financial Report Robot, and is currently in the process of developing Tax Report Automation Software and robotics accounting.
The successful digitalization increased staff's productivity even with increased work volume, the development of robots help reduce 90% of time spent on tasks and with these robots, a 99% improvement in 3E Accounting's productivity is expected. For example, the Financial Report robot is able to generate the financial statements in accordance with the International Financial Reporting Standards (IFRS) presentation and disclosure just by using inputs of Trial Balance and Profit and Loss Statement.
By adapting to the technological change in the accounting profession and investing in emergent technologies such as AI, 3E Accounting's accountants no longer need to perform the repetitive tasks but are able to focus on value creation tasks such as generating insights to make better decisions and financial advisory work.
With a strong belief that technology will continue transforming the business landscape, 3E Accounting invested over $2 million in researching and developing automation robotics and IT infrastructure. Despite not tapping into areas like blockchain yet, 3E Accounting's team have unparalleled expertise in the field and will venture into such areas in near future.