Top 10 Best Places to Visit in Singapore for Tourists
There are various places to visit in Singapore. From a budget trip to a luxury shopping spree, the city-state continues to woo tourists with its family-friendly attractions and world-famous tourist spots. The cultural and historical attractions charm every traveller in the country. Needless to say, the excellent public transportation system in Singapore is the positive factor that contributes to this. Visitors have no problem zipping from one part of town to the next with its highly efficient transportation system. In fact, Singapore is one of the easiest and most comfortable countries to stay and travel in Southeast Asia.
We have rounded up a list of the tourism hotspots in this country:
Marina Bay
Marina Bay in Singapore is an architectural masterpiece that exemplifies the country's modernization. Once a quiet body of water at the entrance of the Singapore River, the Marina Bay transformed into Singapore's iconic landmark from reclaimed land. Marina Bay houses a number of attractions, which includes the iconic Marina Bay Sands resort, and high-end luxury brands. Besides that, there also is a mall with a canal running through it. Nevertheless, we can't forget the ArtScience Museum and the Marina Bay Sands Skypark. Tourists are charmed by the extraordinary scene at Marina Bay. It's luxury and elegance symbolizes Singapore's taste and designates a major international city in Southeast Asia.
Gardens by the Bay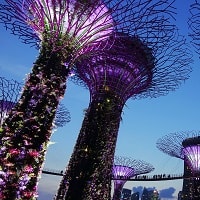 Standing next to Marina Reservoir, Gardens by the Bay is a futuristic park that promises spectacular experience. The Garden houses the famous Supertree Grove that offers an impressive skywalk over the gardens. Besides that, it offers an over-sized seashell-shaped greenhouse. The Cloud Forest Dome recreates chilly mountain climates as well as hundreds of plants for fun learning and discovery.
Singapore Flyer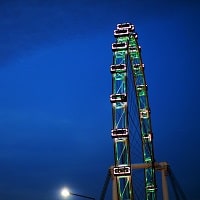 Switching from the jaw-dropping scenic view at the infinity pool at Marina Bay, tourists will find themselves stunned by the panorama captured at the Singapore Flyer. It is one of the world's largest Giant Observation Wheel and one of Asia's biggest tourist attractions. Launched in 2008, Singapore Flyer offers a bird's eye view of the entire island city. It also provides a glimpse of neighboring Malaysia and Indonesia in a capsule 165m above ground level. People can choose which view of the city they want to enjoy, from the beginning of the day or when Singapore is aglow after dark. The 30-minute flight runs from early morning until late at night.
Botanic Gardens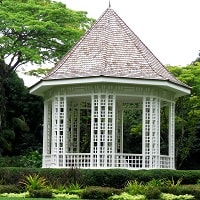 Botanic Gardens in Singapore is a 158-year-old tropical garden that stands quietly at the fringe of Orchard Road. Well, it is the first botanic garden to make it in the UNESCO World Heritage. The place has indeed added a splash of green to concrete-jungle-like city view, preserving precious pieces of Singapore's wilder heritage. Tourist can visit the gardens' heritage trees through the walking trail. The not-to-be-missed attractions include the National Orchid Garden, Ginger Garden, Jacob Ballas Children's Garden, eco-lake, and bonsai garden. You will also see many other impressive sculptures.
Chinatown
People will find themselves walking in the neighborhood of low-rise buildings (that are rich in cultures) along with traditional shops and markets as well as cool stores and cafes, whenever they visit the Chinatown in Singapore. The town preserves the heritage and history of Singapore. From the Chinese Heritage Centre to the famous Baba House, it has a genuine representation of both, Chinese and other Asian cultures. On top of that, Chinatown houses a multitude of places of worship for many religions, as well as cultural museums. Even if you are not a fan of cultural heritage discovery, Chinatown is still for you. Its unique street markets are a go-to place for souvenir shopping which will amaze you.
Raffles Hotel
We can't neglect this place if we are talking about the places to visit in Singapore. Hailed as one of the world's last grand 19th century hotels and colonial buildings, the Raffles Hotel was built in 1887. Thus, it has served as a Singapore landmark for over a century. Standing in Singapore's Colonial District, the classical architecture has attracted many literary luminaries such as Rudyard Kipling and Joseph Conrad, as well as movie star Charlie Chaplin. Indeed, Raffles Hotel represents another facet of Singapore's rich history and cultural heritage. The Colonial District boasts a number of historical sites in Singapore, like the Raffles Landing Site (where Sir Stamford Raffles is said to have stepped ashore in 1819).
Singapore Zoo
Touted as the world's best rainforest zoo, the Singapore Zoo is the home to over 2,800 animals. There are 300 species of mammals, birds, and reptiles here. Set in a rainforest environment, the park has the world's first free-ranging orangutan habitat in the zoo. One of the famous attractions is the zoo is that the public can choose to have the exhilarating experience with orangutans. It is a unique outdoor feast at Jungle Breakfast with Wildlife. Furthermore, people will get a chance to observe feedings for some of the animals. On top of all this, the Night Safari, River Safari (including a giant panda forest), and the Jurong Bird Park make this zoo something you can't miss.
Sentosa Island
Sentosa Island is a man-made island. It is popular as the perfect weekend getaway with its soft, sandy beaches along the southern coast. It located just south of Singapore Central Business District (CBD) (which is a 12-minute cable car ride from Vivo City to Sentosa Island). The island boasts a slew of attractions that include the famous Resorts World, Universal Studios Singapore, Tiger Sky Tower, Singapore Butterfly & Insect Kingdom. It also houses the SEA Aquarium, which is one of the largest collections of aquatic animals in the world.
Universal Studios Singapore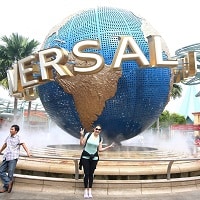 Universal Studios Singapore is Southeast Asia's first Hollywood movie theme park with a wide range of attractions, rides, and entertainment. There are seven movie-themed zones in Universal Studios Singapore, and 18 out of the 24 movie-themed rides here were specially designed for the Singapore park. Another hotspot that worth visiting is the famous Hollywood Walk of Fame at the Hollywood zone where people are charmed by the mock-up of a subway entrance and impressive skylines.
Orchard Road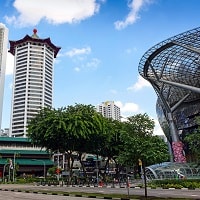 Very much similar to London's Oxford Street or Hong Kong's Nathan Road, the Orchard Road in Singapore is another shopper's heaven. The bustling street is filled with shopping malls, department stores, fashion retails and much, much more! You can easily spend a whole day shopping in Orchard Road – where you can find a great mix of high-end and mid-range brands (from opulent international brands to affordable high street fashion) and many super deals. Apart from the shopping deals in Orchard Road, some cultural sites like the National Museum of Singapore, the Singapore Art Museum and Istana (the old governor's mansion), are just a stone's throw away from Orchard Road.

Singapore is undoubtedly a lively city where people from all walks of lives and cultures mingle together. The tiny island makes a fascinating holiday destination as well as a great place for business and investment! Well, these were some of the best places to visit in Singapore. Contact us if you want more information, we will be glad to help you.