This post is also available in:

简体中文 (Chinese (Simplified))
Beginner's Guide on Starting a Halal-Certified Business in Singapore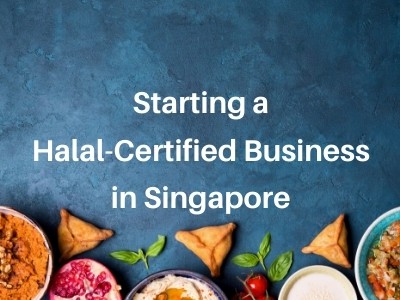 Singapore is a melting pot of people, culture, and cuisines. Part and parcel of this all-inclusive diversity is a growing demand for Halal certification of products and processes. Starting a Halal-certified business is a great way to attract and cater to a niche industry in Singapore.
Halal certification is no longer limited to consumables but now includes a broader range of products and processes. While the process of certification itself can be highly stringent, the benefits will undoubtedly be worth it. Your business acquires a reputation of trust and integrity within the Muslim community and the world at large. You also get the satisfaction of knowing that your business meets and adheres to high ethical standards.
This guide aims to enlighten readers who want to know more about Singapore's Halal certification process. It provides pertinent information that will help entrepreneurs avoid elementary mistakes that can delay the application process. At the end of the guide, you should have the resources and knowledge you need to get certified.
What is a Halal-certified Business?
The word Halal means permitted or lawful in Arabic and is considered the guiding standard for Muslims. It includes processes and products ranging from food to pharmaceuticals, cosmetics, and medical devices. Further, Halal and Kosher are distinct entities and are not interchangeable. A Halal certification proves the products and processes follow Islamic guidelines. On the other hand, for Kosher certification, the applicable procedures are Jewish.
A Halal-certified business can include any of the following:
Hotels, restaurants, cafés, food court stalls, etc.
Warehouses, abattoirs, etc.
Pharmaceuticals, cosmetics, food supplements, etc.
Medical devices, etc.
Halal certification is the exclusive purview of the Islamic Religious Council of Singapore (MUIS or Majlis Ugama Islam Singapore). It is a non-profit organisation and a statutory body under the Ministry of Culture, Community and Youth. Established in 1968 via the Administration for Muslim Law Act (AMLA), MUIS handles all aspects of Singapore's Muslim community.
Why Choose to Start a Halal-certified Business in Singapore?
According to Singapore's Department of Statistics (DOS), the Muslim community constitutes 15.6% of the population as of 2020. That's a sizable portion of this island nation's populace and certainly creates an opportunity for a lucrative niche. In other words, starting a Halal-certified business can be a great return on investment for the discerning entrepreneur.
Halal-certified businesses are also an emerging market segment. The global Halal industry is forecast to reach USD3 trillion by 2026, with Asia-Pacific as a leading market. Nor is it exclusively for Muslim consumers only, as it is gaining popularity in the ethical consumerism market segment. Hence, Halal certification empowers businesses to leverage on many tiers in the global marketplace.
Preliminary Steps to Starting a Halal-certified Business in Singapore
You will need to incorporate your business before getting Halal certification. The process is simple and done online via BizFile, operated by Singapore's Accounting and Corporate Regulatory Authority (ACRA).
If you'd rather focus on running your business, engaging incorporation experts is a great alternative. 3E Accounting Singapore offers customisable, stress-free company incorporation packages that will have you operational in no time. Check out our comprehensive guide to company registration in Singapore to get a clear idea of the whole process.
Start by doing some research and picking the most suitable company structure for your business. This can be a sole proprietorship or partnership, a limited partnership or limited company, or a limited liability partnership. The next steps include:
Register a company name with ACRA, following the required 'naming rules.'
Submit incorporation documents, i.e., registered business address, directors and shareholders information, Articles and Memorandum of Association, etc.
Pay the fees and register with the Inland Revenue Authority of Singapore (IRAS)
Get a bank account and business insurance.
Lease premises, hire staff and get the necessary licencing, and permits.
Begin business operations.
For professional help to register your company, you can engage our company incorporation services in Singapore.
What Does a Halal-Certified Business Need?
After commencing operations of your business, you can move on to the pre-certification preparation. Valid SFA/NEA/HAS licences are needed – these are food shop and food retail permits from the Singapore Food Agency ((SFA). You will also need a Halal team leader and a Muslim representative who have attended the Halal Foundation Programme.
Supporting documents will depend on which scheme you apply for, the size of premises, etc. For example, the Eating Establishment Scheme will require submitting a floor plan, menu, and ingredients list. You will need to submit the application fee and 40% of the certification fee. You will also need to employ a minimum of two Muslim staff.
According to the MUIS website, there are currently seven Halal certification schemes that businesses can apply for and include:
Eating Establishment Scheme – applicable to any business or establishment that retails food.
Food Preparation Area Scheme – applies to cater businesses and central kitchens.
Storage Facility Scheme – encompasses storage facilities, mobile and fixed.
Whole Plant Scheme – relevant to products and facilities of manufacturing plant.
Product Scheme – covers products wholly or partly manufactured in Singapore.
Poultry Abattoir Scheme – applicable to poultry slaughter places.
Endorsement Scheme – pertains to import and export products.
Some businesses may need to apply for multiple schemes. For example, your company may have a central kitchen, a warehouse, numerous food stalls and food trucks. Getting properly certified is needs careful handling to avoid costly mistakes and wasted resources. Engaging an experienced Singapore corporate service provider such as 3E Accounting will reduce misapplications, ensuring your business stays compliant.
Procedures to Get a Halal-certified Business in Singapore
All applications to become a Halal-certified business must be made online via the GoBusiness Singapore portal using your Singpass. Previously, applications submission was via the LicenceOne Portal, but the system has since migrated to GoBusiness Licensing since 2018. After submission of your application and fees, the verification process will begin within a fortnight.
It begins with a desktop audit to verify the online application, followed by a shortcomings cycle to rectify inadequacies. Next comes a site audit which includes compliance with the MUIS Halal Certification Conditions or HCC. You need to ensure that:
All the raw materials your business uses are Halal certified.
The business you wish to certify employs a minimum of 2 Muslim staff at the business premises.
The ten principles of MUIS Halal Quality Management System, as listed on its website, are complied with.
Where relevant, submit a list of ingredients, the menu, and pictures of delivery vehicles or product labels.
The audit process is rigorous, and some audits can take up to 60 days. MUIS will issue a Halal Certificate upon full settlement of outstanding fees if your business passes the audit. The licence itself will be valid for a year or two, depending on the circumstances. You must display the original certificate within your business premises.
Throughout the licence, there will be ad-hoc and unannounced inspections to ensure and verify compliance. The best way to guarantee the timely renewal of your business' Halal certification is to opt for auto-renewal submission.
How to Grow Your Halal-Certified Business
Halal Certification is perhaps one of the most viable marketing tools in Singapore. It immediately broadcasts your ethical standards to the world at large, simultaneously opening your business to a niche marketplace. Your establishment also acquires a trustworthy status that will make it stand out in any crowd.
Once you've received Halal certification, you need to get proactive and get your brand out there. This includes getting to know local and overseas vendors and suppliers who can supply Halal products. Your networking should also include the local community – especially other niche business owners. Creating a supportive environment will be beneficial to you as well as others in the community.
Prime your website to draw in organic footfall and have an active social media presence. Having a Halal-certified business gives you an advantage that you can leverage to create awareness for your brand. Keeping abreast of the latest trend in the Halal industry is also necessary to stay ahead of the competition.
Conclusion
To stay competitive in any commercial arena, businesses need to innovate and keep up with global trends. Companies also need to establish an image that promotes ethical standards which inspire trust in their products and services. Starting a Halal-certified business is one way of doing this. Catering for Muslim and non-Muslim consumers opens up a more inclusive market segment and better chances of success.
If you're looking for the best company incorporation services in Singapore, get in touch with us. At 3E Accounting, we practice what we preach – our services are innovative, ethical, and will inspire confidence in us. Our team of global professionals deliver comprehensive, digitalised, and fully customisable business solutions for the discerning entrepreneur. For more information on modern business solutions, contact 3E Accounting today.