3E Accounting Adopts Safe Distancing and e-Townhalls To Protect Our Employees
To protect our employees, 3E Accounting has adopted the latest guidelines from the Ministry of Manpower. These are:
1. Place employees on Work From Home arrangements wherever possible, especially for vulnerable employees (e.g. older employees, pregnant employees, and employees with pre-existing medical conditions).
2. For job roles or functions where it is not feasible for the employee to work from home, employers should:

Provide wider physical spacing (at least 1 metre apart) for workstations and seats in meeting rooms, pantries, rest areas and other congregation points
Reduce duration and proximity of physical interactions;
Stagger working hours;
Defer non-critical work events and scale down critical work events; and
Implement or enhance shift or split team arrangements.

3. Reduce duration and proximity of physical interactions:

Employers should minimise the need for physical meetings, e.g. by using tele-conferencing facilities.
If there is a critical need for physical meetings to proceed, the number of attendees should be limited and the duration shortened. They should also be dispersed to more than one meeting venue, and linked up through video-conferencing or tele-conferencing.
Employers should also provide for wider physical spacing (of at least 1m apart) for work stations. Seats in meeting rooms should also be spaced at least 1m apart.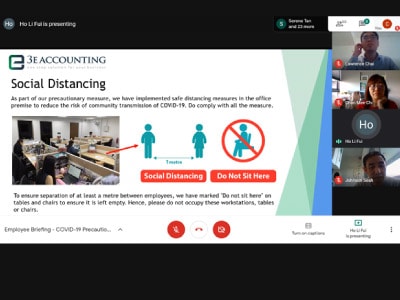 Business Continuity Policy in Place
3E Accounting's Workplace Protection Measures complement our existing Business Continuity Policy (BCP) put in place by our BCP Workgroup that was formed following the declaration of DORSCON ORANGE by the Singapore Government on 7 February 2020.
Comprising 3E Accounting founder Lawrence Chai, General Manager, Strategic Comms Director, Business Continuity Manager and Union Branch Committee, the BCP Workgroup established a Split Team policy with Team A and Team B telecommuting and working from home on alternate weeks.
3E Accounting was able to activate and scale up our BCP due to prior investment in Technology, Virtual Private Network (VPN) and a Company-Wide Flexible Work Arrangement (FWA) Policy.
Prior to implementation of the latest safe distancing measures, we engaged the Singapore Manual & Mercantile Workers' Union as 3E Accounting is the first unionised SME accounting firm.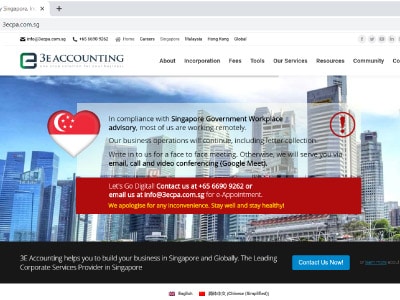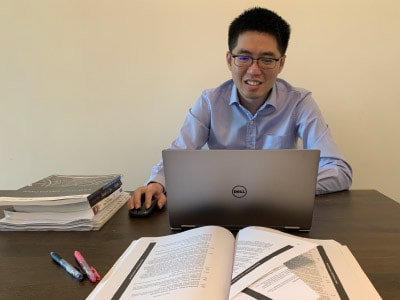 Become the First SME Digital Accounting Firm
Using video-conferencing technology, Google Meet, all employees took part in our first e-Townhall where the measures were clearly communicated and explained to employees.
In compliance with Singapore Government Workplace advisory, clients are advised to provide advanced notice to request for a face to face meeting. Otherwise, our default is to provide quality e-Appointment through email, call and video conferencing as we encourage our clients to "Let's Go Digital!"
With more than 90% of 3E Accounting employees now working remotely, 3E Accounting is on track to become the first SME Digital Accounting Firm. That is why we want to help SMEs to adopt technology to digitally transform their businesses and take full advantage of Singapore's Smart Nation.