3E Accounting Conducts Talent Recruitment Interviews Digitally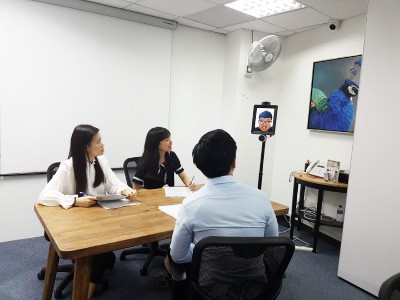 Globally, businesses are feeling the wide-ranging effects of the COVID-19 with national authorities imposing stringent restrictions on travel and quarantine measures. As part of the global business community, 3E Accounting is supporting preparedness efforts to contain the spread of the developing COVID-19 in Singapore by taking additional preventive measures such as requesting for health and travel declaration from clients and employees, and conducting talent recruitment interviews digitally using emerging technologies (EmTech) like Double Robotics technology.

Double Robotics Technology
3E Accounting is the first SME accounting firm to implement the revolutionary Double Robotics technology in the office setting. Harnessing the duality of video-conferencing and robot technology, Double Robotics is a powerful communication tool to engage workers located remotely. The technology fosters a strong collaborative environment to execute team-based tasks in the office setting.
Double Robotics technology was first introduced in 3E Accounting with the aim of providing employees with a flexible working environment to contribute and communicate with other team members regardless of geographical separation. The tech innovation arose out of 3E Accounting's farsighted investment in VPN technology and Cloud-based email to empower every employee to enjoy full access to email, document management and calendar scheduling, and be able to work from anywhere, because it is all on Cloud.
Now, it helps to ensure that business operations continue to run smoothly with employees who are on Leave of Absence (LOA) and working from home in compliance with national health and manpower advisories. 3E Accounting's investment in innovative tech development and commitment to flexible work arrangements and flexi-work culture helps us build business resilience, and forms the nucleus of Business Continuity Planning.