Getting Your Future Started with DBS & 3E Accounting
3E Accounting, Singapore's leading service provider for Singapore company incorporation, accounting, tax, payroll, immigration and compliances services in Singapore is proud to announce that they are qualified as one of the top 6 referral partners for new DBS Bank account openings.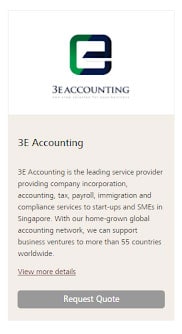 DBS Banks is one of the largest banks in Southeast Asia, with more than 250 branches and over 1,100 ATMs worldwide. 3E Accounting is delighted to be selected as one of the partners, working closely with DBS to offer the market another integrated option and a seamless experience when it comes to doing business.
As part of this new collaboration, DBS could like to give our business the opportunity to be featured on the panel of Get Set with DBS – Referral Partners for Q2 2018, starting from the 1st of April and running all the way until the 30th of June 2018!
Thanks to the new partnership between DBS Bank and 3E Accounting, stakeholders will now have more options when it comes to addressing their specific situation, leveraging on 3E Accounting Singapore's well-developed end-to-end solutions and DBS's extensive financial expertise.
Entrepreneurs who are interested in registering a company in Singapore will be able to apply for this exclusive package. The online application would take 3-5 working days to complete. If you need it done faster, 3E Accounting also accepts walk-in applications, and if all the necessary documentation and information is ready to go, the application time takes only 2-hours for approval.
Free SGD$100 vouchers!!!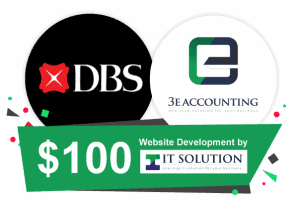 To celebrate the recently announced collaboration, 3E Accounting is also giving away SGD$100 vouchers to be used for web site development from IT Solution, Singapore's leading solutions provider when it comes to all things IT. The voucher may be used to offset any website development services offered by IT Solution.
About DBS Bank
DBS Bank is Asia's leading financial services group, headquarterd and listed in Singapore. The bank's AA and Aa1 credit ratings are among the highest in the world, and DBS is at the forefront of leveraging the digital technology to help shape the future of the banking industry. DBS has been named the World's Best Digital Bank by Euromoney. DBS is also recognizes as Asia's Best Bank by several publications, including The Banker, Global Finance, IFR Asian and Euromoney since 2012, and it has also been named the Safest Bank in Asia by Global Finance for nine consecutive years from 2009 to 2017.
About 3E Accounting
3E Accounting is a leading service provider for company incorporation, accounting, tax, payroll, immigration and compliance services that assist start-ups and SMEs in Singapore get off to the right start with their business. 3E Accounting's home-grown global accounting network supports business ventures in more than 55 countries worldwide.