Dear Reader,
Welcome to our E-Newsletter October 2017
Southeast Asia region is a dynamic region with vibrant business climate and a young population that support the monumental economic growth. Singapore, a country that is always blessed with large pool of international talents, excellent investment prospects, and strong sterling financial ratings, manages to maintain its position as the financial hub in Southeast Asia well as attract multinationals to set up their regional or global headquarters in this country. As part of the thriving economy, 3E Accounting Singapore has seen some achievements in September.
Saudi Arabia Joins 3E International Network
One of the notable milestones is that last month we welcomed Saudi Arabia to join our International Network. The latest development of the International Network has further proven that we are the competent global network with high-profile network members and strong foundation.
Now is the Golden Age to Venture into Malaysia
Another achievement that worth celebrating was the successful event that brought together top business and investment profession: "Golden Age to Venture into Malaysia".
Featuring high-profile speakers and presenters including Soh Kar Liang, Managing Director of Ella Cheong LLC, Zhou Shuping, Associate Director, and Andrew Gam, Adult Certified Trainer, ACTA and Senior Business Advisor of SME Centre @ASME, the event unveiled the secrets and actionable tips from how to venture into Malaysia. The speakers presented attendees with strategies to leverage the resources and business opportunities in Malaysia as well as industry updates of GST system, tax system and government incentives in Malaysia; issues such as employment issue, commercial properties, business license as well as the company incorporation in Malaysia.
Corporate Social Responsibilities
We believe that work-life balance is one of the important elements in creating a positive workplace. In addition to this, we strive to create and promote work-life balance not only among ourselves but also to the community.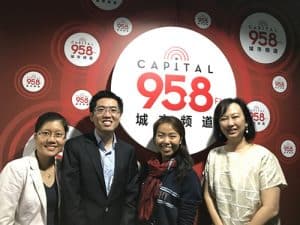 Echoing the work-life balance promotion month, we had played our part by supporting the "My Family Weekend 2017" activities. We took the initiative in the 'Bring-your-Family-to-work Day' on 31 August 2017, where the event is in line with our work-life balance working culture. On top of that, we are honoured by the invitation to the radio interviews on 95.8FM and 938LIVE to share about work-life balance culture at workplace as well as our efforts to promote work-life balance.
Our participation in the Community Chest Heartstrings Walk 2017 on 9 September 2017 at Marina Bay Sands was also signifies that we never forget the community but we strive to unite and connect with people from all walks of life. The event, a 4-km morning walk along the picturesque Marina Bay together with the seniors in need, is a benchmark that shows the community care and support for an inclusive nation.
September is definitely a memorable month for 3E Accounting Singapore, and we could never achieve the milestones without your patrons and supports. Again, I sincerely thank every one of you for being so supportive to 3E Accounting Singapore!
Thank you.
Lawrence Chai
Managing Director
Read More in our E-Newsletter October 2017.