3E Accounting, a Singapore-based international network, grabs the hype of work life balance promotion of this month by supporting the "My Family Weekend 2017" activities as the event is in-line with the company's direction and culture.
3E Accounting has initiated the 'Bring-your-Family-to-work Day' on 31 August 2017 as the event echoes 3E Accounting's work-life balance working culture. Furthermore, they are also invited to shed lights about work-life balance culture at workplace as well as their efforts to promote work-life balance during this month through radio interviews on 95.8FM and 938LIVE.
Work-life Balance Culture
3E Accounting stands out in the work-life balance arena because the well-being of their employees always comes first. When talked about work-life balance, flexibility, time management and women's issues always top the list. These are the key elements of work-life balance, and there is so much more. 3E Accounting believes that work-life balance can be incorporated into a company's culture in a way that works for that company's industry.
Building a Family-oriented Working Environment
3E Accounting gives its employees autonomy to manage individual work schedules, allowing them to have a life outside of their careers and giving working parents free time to tend to family responsibilities – some of 3E Accounting's staff will bring along their kids to work and their kids can stay in the Kids Corner where games, creative art & crafts, etc. as well as special lunch treat, will be provided.
By placing an emphasis on passions instead of punching the clock, it enables its teams to work diligently yet flexibly, supporting an enjoyable work-life balance without burnout.
"We are always looking at building a family-oriented working environment and this event is a very good match to what we are doing," said Lawrence Chai, the founder of 3E Accounting.
Across the globe, many employees value good work-life balance more than anything else does. A pleasant working culture has become a top priority for female employees, working parents as well as millennials. Many employees tend to look beyond the paycheck and job security where a good work-life balance is the key benchmark of job satisfaction.
3E Accounting have also been featured in various platforms in the past for their work-life balance practices, such as The Straits Times, ISCA Journal and many more.
View 3E Accounting's Awards and Milestones.
As such, they urge all employers to apply such initiative in their workplace as early as possible because building a work-life balance environment is not going to cost the firm a lot but help to reduce staff turnover rate and hence the training cost.
"Employers can begin with something simpler such as Flexible Work Arrangement that requires slight adjustment and redesigning of staff workflow," said Lawrence.
Lian He Zao Bao featured 3E Accounting in their article as one of the participating companies for My Family Weekend. View write-up.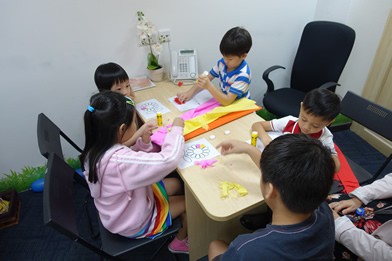 3E Accounting's My Family Weekend on 31 August 2017 – Bring your Family to Work Day
3E Accounting puts work-life balance at the forefront and they wish to share their experience to more people as to encourage the adaptation of work-life balance culture in the workplace. Hence, they would like to extend the warm invitation to everyone to join the "My Family Weekend 2017" to learn more about the benefits of work-life balance working culture.