Dear Valued Clients,
Welcome to our E-Newsletter April 2019
We hope this email finds you well!
As the company that is at the frontline of providing cutting-edge business solutions, 3E Accounting's goal is to support you in your business journey and unlock countless opportunities for monumental growth through our end-to-end services. Thanks to the highly dynamic economic environment where competition keeps us on our toes, we are proud to share some remarkable achievements with all of you.
3E Accounting Singapore Have Adopted All Eight Tripartite Standards
One of the proud achievements is that we have adopted all eight Tripartite Standards on Mar 2019 – keeping industry standards in mind, this is the important milestone of 3E Accounting. Jointly developed by the Ministry of Manpower, National Trades Union Congress, and the Singapore National Employers Federation, the Tripartite Standards is a verifiable set of standards that aim to reshape the landscape of Human Resource management as well as working culture in Singapore.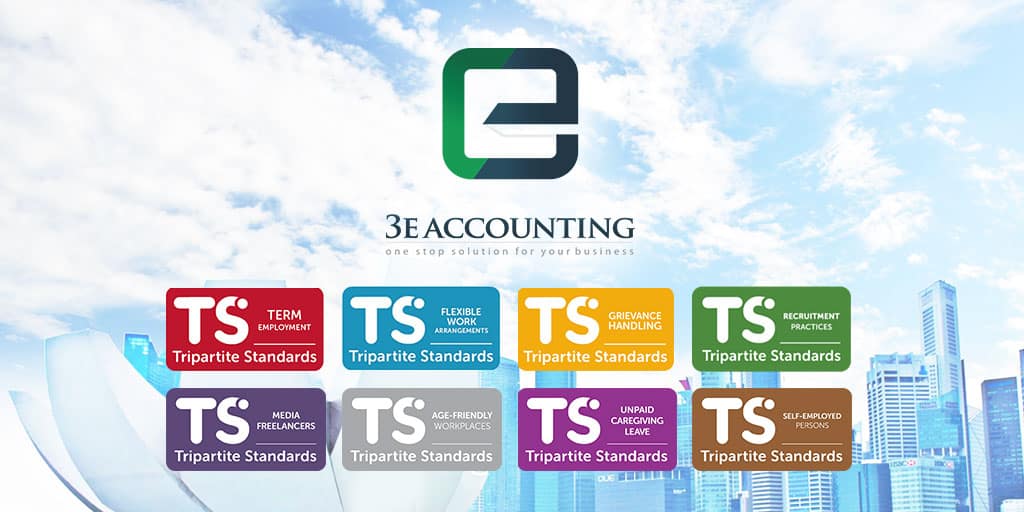 It is an undeniable fact that technological disruptions and digitalisation have changed how people do businesses across the globe. In relation to this, the need for providing flexible work options for employees is rising. Meanwhile, the rising expectations of job seekers, well-educated employees, and talent attraction and retention are the major concerns for employers. In this light, the Tripartite Standards have provided an achievable set of employment standards to help employers to implement and communicate fair and progressive employment practices to employees.
All Eight Tripartite Standards at One Glance:
Tripartite Standard on Employment of Term Contract Employees
Tripartite Standard on Flexible Work Arrangements
Tripartite Standard on Grievance Handling
Tripartite Standard on Recruitment Practices
Tripartite Standard on the Procurement of Services from Media Freelancers
Tripartite Standard on Unpaid Leave for Unexpected Care Needs
Tripartite Standard on Contracting with Self-Employed Persons
Tripartite Standard on Age-friendly Workplace Practices
Though the adoption of these standards is voluntary, business is encouraged to do so as it is an indicator of the workplace practices encouraged by the Ministry of Manpower.
Reminder on Personal Income Tax Filing Season
As you may have noticed, now is the personal income tax filing season. We would like to remind you that do not miss the deadline to file annual personal tax returns for the Year 2018 – you need to file the personal tax return with IRAS by 15 April 2019.
Last but not least, our achievements would not be possible without the support of our customers and staff. Thank you!
Thank you.
Lawrence Chai
Managing Director
Read More in our E-Newsletter April 2019.