Future Of Accountancy Is Bright And Here!
The Straits Times interviewed 3E Accounting Founder Lawrence Chai and key industry leaders, from Chief Executive Officer of the Institute of Singapore Chartered Accountants (ISCA) to Head of Policy and Technical at the Association of Chartered Certified Accountants (ACCA) Singapore and Chief Executive of the Institute for Human Resource Professionals (IHRP) after ACCA published its report, Future ready: accountancy careers in the 2020s. In the report released last month, ACCA said 80 per cent of respondents saw technology innovations as having the most impact on future careers.
ACCA's global research over the last three years included additional desktop research, a member survey and interviews conducted with finance leaders, HR professionals and recruitment specialists in key markets to understand how careers may transform.
The expert opinion is that accountants will expand their job scopes to become tech front runners and even sustainability champions for the companies they represent. They dispelled the myth that that finance careers were competing with careers in technology and could be replaced by emerging technologies in the digital age. While technology could process many repetitive and routine tasks, accountants exercise professional judgment and professional scepticism – two critical attributes which technology cannot.

Future ready: accountancy careers in the 2020s
3E Accounting Founder Lawrence Chai told The Straits Times, "We aim to stay ahead of the tech curve, so as to implement automation software that can automate most routine finance functions, like issuance of invoices, payment chasers and sending out routine reminders."
Recognising the importance of harnessing the digital economy, 3E Accounting looks for applicants who are keen to learn about digital and technology, besides accounting knowledge. 3E Accounting has also created a Technology Track in its Management Trainee Programme to track promising accountants in cross-disciplinary integration of accounting and digital skillsets.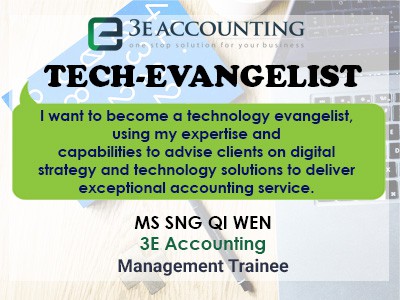 The local accounting firm also invests in cloud technology, which is now used for storing digital information, so employees can work remotely. It is also working with institutions of higher learning (IHLs) to develop an "accountant robot" to handle book-keeping services automatically.
3E Accounting management trainee and Direct Honours Accountancy graduate Sng Qi Wen is currently attending courses in data science and Python programming and pursuing additional professional certificate programmes, fully sponsored by the company. Her aspiration is to become a technology evangelist to advise clients on digital strategy and technology solutions to deliver exceptional accounting service.