3E Accounting Pte Ltd Awarded the Promising SME 500 2014 of the Year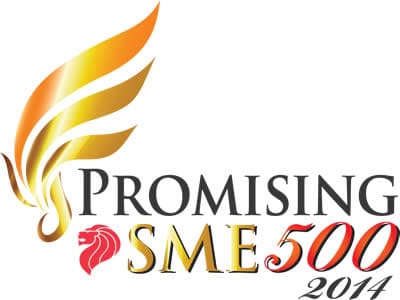 3E Accounting Pte. Ltd. has been recognised be a business luminary of the prestigious Promising SME 500 2014 and we are indeed honoured to have been carefully chosen by Small and Medium Business Association (SMBA) for this recognition. The great efforts made by the company in providing clients with the best quality of work and service and prompt responses, had made all this possible. Maintaining our excellent standards to all the clients is extremely crucial in this highly-competitive industry and with this recognition, 3E Accounting Pte. Ltd. sets an even higher benchmark for itself to surpass.
The recipients are selected based on criteria such as leadership, innovation, business and brand performance, customer value generation and projected business sustainability. Business leaders must have elevated their businesses above other industry players, seized growth opportunities with healthy yearly revenues and sound expansion potential.
3E Accounting Pte. Ltd. wishes to thank all staff and clients for their continued support.
About Promising SME 500
The Promising SME 500 Campaign was spearheaded to recognize the exceptional achievements of business men and women in Singapore, highlighting their commercial success and also recognizing their contributions to the economy and the community at large. This campaign also serves as a platform to inspire aspiring entrepreneurs to likewise pursue their dreams and ultimately to create a sustainable entrepreneurial culture in our nation.
The Promising SME 500 2014 Campaign is supported by the Small Medium Business Association (SMBA), a business association founded to build and nurture the next generation of business leaders in Singapore whilst promoting business excellence among established local SMEs.
The Campaign Advisory Panel and main organizers include industry top executives and consultants from the ­fields of Banking and Finance, Human Resource, Academia, Politics and Business Management. Through SMBA, this campaign is also closely affiliated with students from top Local Universities such as NUS and SMU – and is dedicated to supporting youth entrepreneurs and youth business clubs such as the NUS Entrepreneurship Society (NES) in their efforts to promote entrepreneurship among the youths and young adults in Singapore.