3E Accounting International Network Expands to 50 Countries Worldwide
UPDATE: Hailed as one of the leading global accounting networks, 3E Accounting International Network – Global Presence in More Than 60 Countries, with 1,300 staff and 90 offices across the world. Global advisory and consultancy platform, Consultancy.asia also recognised 3E Accounting International Network's 50-Member Achievement with a feature story that highlighted 3E Accounting International's fascinating network growth in five years, as well as its ambitious global expansion plan.
3E Accounting Pte. Ltd. was honoured to be featured in PRNewsWire – 3E Accounting International Network Expands to 50 Countries Worldwide, on 12 July 2017. We are extremely delighted to have this piece of write-up published in many other online platforms as well, such as Yahoo! Finance, World Executives Digest, Daily Express, Singapore Information Services and many more.
PRNewsWire's 12 July 2017 write-up on "3E Accounting International Network Expands to 50 Countries Worldwide".
3E Accounting International Network, a global accounting firm headquartered in Singapore, is expanding to give it reach in 50 countries. The milestone has been achieved just six years after the Company was established.
First and Only Home-grown Global Accounting Network in Singapore
3E Accounting is the first home-grown global accounting network in Singapore and the only home-grown accounting firm with its headquarters in Singapore. The Company hopes the expansion will further promote Singapore as a financial and accountancy hub in the region and across the world. It helps businesses to venture overseas, providing a one-stop solution for them globally.
Singapore CA Qualification
We are pleased to have Singapore CA Qualification sharing our post on Facebook and would like to thank them for sending us their congratulations on our recent expansion.
Helping SMEs
The Company is among a number of successful Singaporean international networks that strive to help small and medium industries to network, build relationships and succeed in their business. "3E Accounting boasts a highly professional service network of independent accounting and consultancy firms that provide accounting, tax, payroll and advisory services to small and medium industries," added Chai.
As one of the leading one-stop service providers in Singapore, 3E Accounting understands that networking is the key to business development as well as personal growth.
The Network will Continue to Expand
"The network will continue to expand," said Lawrence Chai, managing director. "It is our determined aim to help businesses in need. We draw on a very talented team of experts here in Singapore and beyond. We have the credentials and the professional expertise."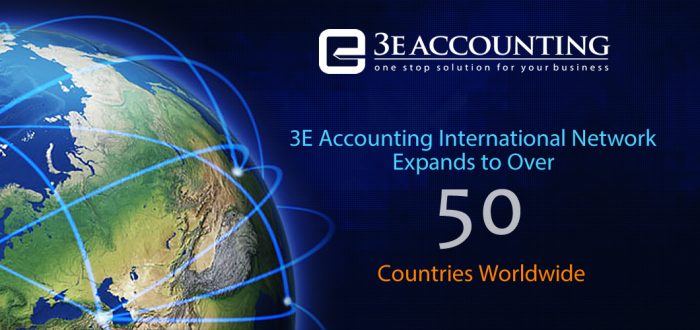 With the new network come more than 1,200 staff and 79 offices to support its global client base. This expansion portrays the company's growing success.
PRNewsWire – 12 July 2017
3E Accounting Pte. Ltd. would like to thank PRNewsWire for the write-up, all online news networks for the feature and all staff and clients for their continuous support.
Below are some of the online news platforms that we are featured in: