The pioneer batch of Human Capital Partners (HCPartners) was unveiled by Minister of Manpower, Mr. Lim Swee Say at the Human Capital Partnership networking event on last Friday, February 17. Among them, 3E Accounting Ptd Ltd. was proud to be recognised as the pioneer batch for human capital partnership. It was a great honour where there was only two accounting firm on the pioneer list, 3E Accounting and the Big Four firm KPMG.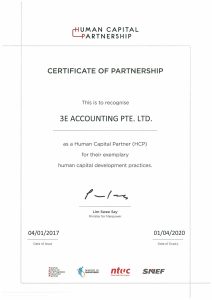 Those HCPartners in the pioneer list will receive the HCP mark which recognises the partner as an exemplary employer. In addition, it identifies the company's relationship with the HCP community. The HCP mark portrays the continuous commitment by HCPartners in human resource development and 3E Accounting is one of the companies that has demonstrated the fair practice of an employer as well as our expertise in human resource management. The endorsement of "Human Capital Partner" recognises 3E Accounting as the employers of choice.
3E Accounting has a long-standing reputation in providing human resource services that are above par. The services included payroll services, employee's handbook, employment contract, recruitment service, as well as HR grants consultation. Apart from that, we have a good reputation in external human resource consultation where we have experts to deal with external human resources consultation. As the HCPartner, 3E Accounting has the priority processing for transactions with Ministry of Manpower. The recognition enables us to have easy access to government support and resources that will further develop human capital such as those under:
Adapt & Grow
SkillsFuture
Lean Enterprise Development Scheme
The HCP mark and pioneer list have indeed added feathers on the hat, as it is a benchmark of our top quality services and capabilities. If you want to engage with a good human resource service provider, 3E Accounting is always ready to help and work out the best solution with you. Please
Contact Us
today to ensure a promising future of your company.
Human Capital Partnership, 2017

The Human Capital Partnership (HCP) Programme is a tripartite initiative to support progressive employers who invest in human capital development.
The HCP programme seeks to grow a community of employers with progressive human capital development practices. Human capital development is essential for Singapore's economy to remain competitive, for businesses to attract and retain talent, and Singaporeans to continue to have better jobs, better salaries and better careers.
The HCP programme is managed by the Tripartite Alliance for Fair and Progressive Employment Practices (TAFEP), supported by the Ministry of Manpower, the tripartite partners, and various economic and sector agencies.