3E Accounting Was invited by CSIS to Corporate Service Providers (CSPs) Update Session 2019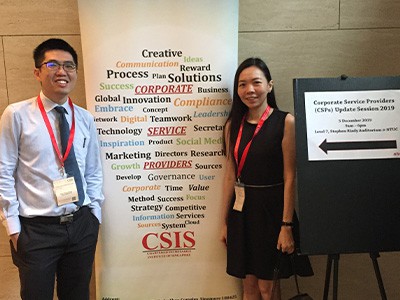 3E Accounting was invited by the Chartered Secretaries Institute of Singapore (CSIS) to the Corporate Service Providers (CSPs) Update Session 2019 at the Stephen Riady Auditorium, NTUC Centre.
Learned speakers from ACRA briefed participants on the impending implementation of the Central Non-Public Beneficial Ownership Register and on the proposed legislative amendments to enhance the transparency of business entities and combat money laundering and terrorism financing.
Questions About Local Resident Director Requirement
In a dialogue session moderated by CSIS Chairman Nathaniel C Vanniasingham, Chairman of Audit and Risk Management Committee on the ACRA Board, Adrian Chan took and addressed questions from the audience on proposals for CSPs to be granted Power of Attorney in support of the local resident director requirement.
The session was a commendable joint effort by CSIS and ACRA to engage CSPs on upcoming regulatory requirements and proposed legislative amendments.