Beginner's Guide on Starting a Taxi Business in Singapore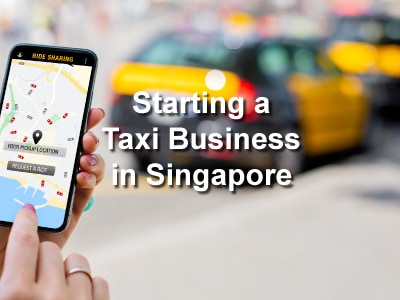 The taxi industry is doing exceptionally well in Singapore, along with every other industry in the nation. So, if you want to invest in a viable business, starting a taxi business is an excellent option. Demand for taxis is growing, with more Singaporeans preferring to travel by taxi than their own vehicles.
You could earn decent profits from this business by planning well and complying with every legal stipulation. Analyze the taxi companies in your area, study their services, and offer something that sets you apart. The key to succeeding in your taxi business is to offer passengers more value-added services.
Draft a business plan outlining your objectives and the steps you need to take for starting your business. With careful preparation, you can overcome all challenges that will come your way. To assist you, we have brought together in this article all the know-how you need. Feel free to contact us for more information.
Industry Practices for Starting a Taxi Business in Singapore
Taxi businesses have been doing very well in Singapore in the last ten years. Most people prefer to travel by taxi to reach their destinations on time. Many private hire-car services like Grab and Uber have sprung up to capitalize on this increasing demand. The USP of these private cabs is that people can hire them with just a few taps on their phones. Moreover, the fares these taxis offer are also very affordable.
Even though the pandemic affected the taxi sector, experts predict that with business activities resuming, there will be an improvement. So, with little investment and smart decisions, you can earn excellent profits in the taxi business.
What You Can Do to Ensure Success for Your Taxi Business
The taxi industry is highly competitive in Singapore. To help you flourish, we are providing some valuable business tips:
1.  Analyze Your Competition
Know all about the taxi companies in your locality, and study their business model. Understand consumer expectations and try to provide better services than your competitors.
2.  Decide How Much to Spend
Your expenses will depend on factors like your business model, the number of vehicles you need, or your insurance. If you are developing an app, estimate the fees you will pay your web developer. The more functionalities and features on your app, the more you will have to pay.
3.   Hire Good Drivers
Providing good customer service will give your taxi business an edge. So, ensure that every driver you hire has a valid license and an excellent driving record. Remember, your business hinges on the treatment your driver provides to passengers. So, monitor your driver's activities and train them on how to offer their best behavior to customers.
4.   Buy the Right Vehicles
Cars, being the primary requirement of a taxi business, you should devote sufficient time to their selection. Consider factors like sufficient trunk room, cleanliness, and safety measures, while selecting your cars.
5.  Get Your Taxi-booking App
People today book cabs mostly on phones, so consider a mobile app as a must for your business. Getting an app that has user-friendly features and performs efficiently can enhance your brand value.
Such an app should help passengers book, cancel, or reschedule their rides. It should enable drivers to check customer details like location and help decide whether to accept or reject customers. The app will connect your passengers and drivers in real time.
6.   Gain Customer Loyalty
Success for your business hinges a lot on customer satisfaction. So, the services you provide should be impressive enough to attract customers. You should also make every effort to retain customers by offering discounts and special offers from time to time.
By providing special discounts to regular passengers, you can gain their loyalty. Offer them ride-sharing features by which they have to pay only reduced fares. Making your cab wheelchair-accessible and adding more such features will also be beneficial.
7.  Marketing Your Business
Spare no effort to promote your taxi business. Leverage all platforms, whether your website or social media. Hand out business cards, and flyers, and register your business in local directories. Hiring influencers is also an excellent promotion idea.
Business Registration
If you are certain about starting a taxi business, then you can commence the legal formalities for registration. First, you need to register your company with the Singapore Accounting and Corporate Regulatory Authority. Prepare all your paperwork and buy the vehicles you need for your business.
Foreign investors starting taxi companies can benefit from government incentives. You can get more knowledge on these incentives from 3E Accounting, which specializes in company registration in Singapore. Those thinking of starting a taxi business in Singapore will have to follow the rules stated by the Land Transport Authority.
Licenses and Permits
The rules state that only Singapore citizens can hold a taxi driver's license. You should also remember to renew your license every three years. Additionally, there are certain conditions that you need to fulfill before starting a taxi company.
The conditions are:
Your age needs to be at least 30 years.
You must know English, and you need to have done a course specially meant for taxi drivers.
A valid 3/3A class driving license is a must for a minimum of one year.
Besides these, there will be a medical test you have to pass.
The best way to get more information is to enquire with 3E Accounting's team, known for their professional SG company incorporation services.
Starting a taxi business in Singapore is a very promising business idea that is guaranteed to flourish. Completing all legalities by yourself can be risky, especially if it is your first investment. So, contact a trustworthy corporate service provider like 3E Accounting to help you set up your taxi business. Our qualified team will smoothen the company setup process and handle all the complicated legal tasks on your behalf.