Advancement of Digital Economy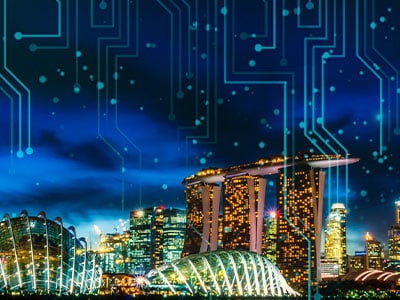 Everything is within our reach with a click on our smartphones; we can book a ride, order a meal or pay a bill. These changes are powered by technological advancements, which have reshaped jobs and how businesses operate. For example, there is now a mobile app that allows you to pay a bill, apply for a new credit card and open a new account showing how banks are also tapping technology to create new products and services for digital-savvy customers. With everything being one-click away, certain job functions, such as those of bank tellers, would have to evolve.
To get itself ready for this reality, Singapore has embarked on an all-out push to get the country ready. Going digital is now critical for companies across all sectors, even as workers are nudged to pick up new skills as the economy moves into a more digital era. By 2021, the digital economy is estimated to add as much as US$10 billion to Singapore's gross domestic product (GDP). This will also increase the GDP growth rate by 0.6% annually. However, with these changes, many jobs and skills will be made redundant quicker than expected.
What is Digital Economy?
The digital economy is defined as a broad range of economic activities that utilize digitized information and knowledge as key factors in the majority of their businesses. Simply put, the digital economy is organized, enabled and facilitated by technology like computers, the Internet, artificial intelligence, etc. The growth and influence of technology have caused huge waves across all industries. A good example would be how ride-hailing platforms have upended the taxi operators. As technology continues to make its way across industries, some jobs have changed or become obsolete. There is also a huge demand for new skills such as programming and data analytics. The emergence of digital platforms is the catalyst. These data-driven platforms have disrupted existing industries over the past decade and continue to do so. Examples of these are Facebook, Alibaba and many more.
How it Affects Singapore?
The digital age brings major opportunities for Singapore. Digitalization enables countries like Singapore to overcome the geographical location and helps enterprises penetrate new markets. With the advancements in digital technologies, it is crucial to embrace this change before it is too late.
What Has Been Done
A plethora of measures have been put in place, some of which include continued investments into digital infrastructure, initiatives that offer funding support or advice, a digital-focused office, etc. The creation of a digital-focused office is to encourage digitization of companies by assisting them through the process. In terms of increasing the digital capabilities of the workforce, various technology-centric programmes have been introduced into the curriculum at educational institutions as well as providing existing workers with various options for skills upgrading on-the-job training. Another point to take note of would be the shift towards a cashless society. All the effort put in has resulted in Singapore being ranked as the world's second-most digitally competitive country in an annual ranking published by Swiss business school IMD last year.
Challenges Faced
There are concerns about the digitalization that is taking the world by storm. Many experts worry that the current workforce may not be ready for this change. Various countries are facing the challenge of a job-skills mismatch. The technology advancement is surpassing the current capabilities of the local workforce. New technologies such as robotic process automation and artificial intelligence do not have workers that are properly equipped to handle these jobs.
The rise of the digital economy is a global phenomenon and not something in which we can control the pace. Digitalization also creates new problems such as cybersecurity risks and loopholes in taxation that regulators have to address.