Singapore's Lower & Middle-Income Residents to Get GST and S&CC Rebates Early 2023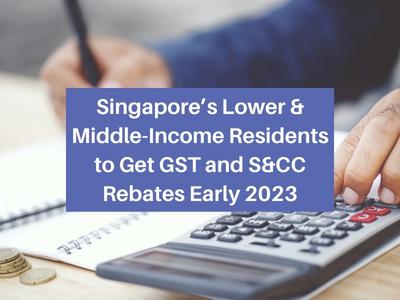 Lower and middle-income household residents in Singapore are set to receive their GST vouchers and S&CC in early January this year. This will apply to about 950,000 residents living in HDB flats.
The GST vouchers and U-Save and Service and Conservancy Charges (S&CC) will help mitigate the growing cost of living in Singapore. These rebates will offset 1.5 and 3.5 months of the S&CC costs annually.
Under the fourth tranche for FY 2022, the permanent GST voucher scheme and Assurance Package (AP), the GST and S&CC will help offset living expenses.
What Do The GST and S&CC Rebates Include?
Community Development Council (CDC) vouchers totalling $300 will be distributed to Singaporeans. $200 CDC vouchers are from the AP, and $100 CDC vouchers are from Singapore's $1.5 billion support package. The support package was launched in October 2022.
Eligible Singaporeans can expect their benefits beginning on 3 January 2023. Lower-income seniors (55 years and above) will get $300 cash next month under the GSTV cash incentive.
All eligible households will get the equivalent of 8 to 10 months' worth of utility bills, double their usual U-Save rebates for FY2022. This is an estimated utility usage for an average one to two-bedroom HDB flat. For a three to four-bedroom household, they could get the equivalent of four to six months' worth of utility bills.
Seniors Stand to Benefit Too
In February, eligible seniors (55 years and above) and children (20 years and below) will get $150 deposited into their CPF Medisave account via AP MediSave.
How Will Rebates Be Credited
Households don't need to take action, as these rebates will be credited directly to the utility account that is managed by SP Services. The same applies for the S&CC rebates. These will be credited directly to the S&CC accounts managed by the authorised Town Councils.