We are delighted to be featured in ISCA Journal for being Singapore's First and Only Home-grown Global Accounting Network on 8 April 2017.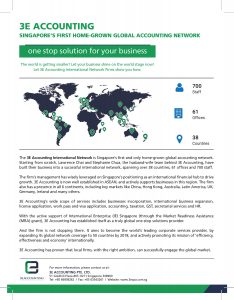 ISCA Journal's write-up on Singapore's First and Only Home-grown Global Accounting Network.
The 3E Accounting International Network is Singapore's first and only home-grown global accounting network. Starting from scratch, Lawrence Chai, behind 3E Accounting, have built his business into a successful international network, spanning over 38 countries, 61 offices and 700 staff.

The firm's management has wisely leveraged on Singapore's positioning as an international financial hub to drive growth. 3E Accounting is now well established in ASEAN, and actively supports businesses in this region. The firm also has a presence in all 6 continents, including key markets like China, Hong Kong, Australia, Latin America, UK, Germany, Ireland and many others.

3E Accounting's wide scope of services includes businesses incorporation, international business expansion, license application, work pass and visa application, accounting, taxation, GST, secretarial services and HR.
With the active support of International Enterprise (IE) Singapore (through the Market Readiness Assistance (MRA) grant), 3E Accounting has established itself as a truly global one-stop solutions provider.

And the firm is not stopping there. It aims to become the world's leading corporate services provider, by expanding its global network coverage to 50 countries by 2018, and actively promoting its mission of 'efficiency, effectiveness and economy' internationally.

3E Accounting has proven that local firms, with the right ambition, can successfully engage the global market.
ISCA Journal, 2017

The ISCA Journal feature in-depth analysis of accounting and business issues and pertinent developments in the accountancy arena. The Institute of Singapore Chartered Accountants (ISCA) is the national accountancy body of Singapore. ISCA's vision is to be a globally recognised professional accountancy body, bringing value to our members, the profession and wider community.
3E Accounting wishes to thank ISCA Journal for the feature and all staff and clients for their tremendous support.