3E Accounting Is First SMP to Launch Financial Report Robot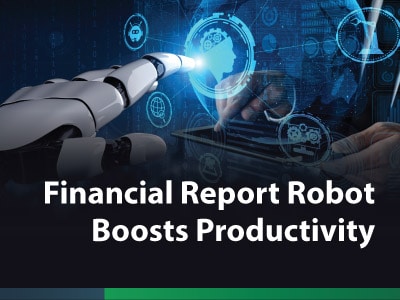 3E Accounting is the first SMP (Small and Medium-Sized Accounting Practice) in the region to adopt robotics technology and launch its inaugural Financial Report Robot, leapfrogging the competition to usher in the age of the robot accountant.
The transformation of 3E Accounting into the region's first robotics accounting firm started with SMP business owner and technopreneur Lawrence Chai's pioneer foray into innovative Double Robotics technology in 2016 and has since propelled the firm towards achieving the vision of deploying robotic accountant user interface (UI) to deliver services beyond excellence.
Digital Research and Development to Support Accountancy Industry Digital Plan
In response to the launch of the 2019 Accountancy Industry Digital Plan (IDP), 3E Accounting Founder and Chief Technology Officer (CTO) Lawrence formed the firm's Digital Research and Development team to spearhead development in new technological growth areas of Robotics Process Automation (RPA), Machine Learning (ML) and Artificial Intelligence (AI). Within 15 months of its formation, the team completed the Digital Transformation of all business processes in company incorporation, accounting, tax, human resource and secretarial services.
In 4Q2020, 3E Accounting engineered a major robotic accountant UI break-through with in-house development of the Financial Report Robot. This success can be attributed to the close working experience and skills transfer during the Accounting Report Automation prototype development with Singapore Institute of Technology (SIT) interns as part of SIT's Industry Induction 16-week Integrative Team Project (ITP) in 2018. 3E Accounting has continued working with SIT through the Accounting Technology and Innovation Centre (AccTech Centre), a joint initiative between SIT and Singapore Accountancy Commission that facilitates collaboration and catalyses technology and business innovations in the accounting sector.
"I am very encouraged by progressive accounting firms such as 3E Accounting who has pivoted to technology to improve productivity in challenging times through the adoption of emergent tech – Robotic Process Automation and Machine Learning, and I hope more Small and Medium-Sized Accounting Practices can follow suit."
Professor Kevin Ow Yong
Head, AccTech Centre
Boost in Productivity With Financial Report Robot
The Financial Report Robot requires minimal human inputs to produce financial reports that are in accordance with the Singapore Financial Reporting Standards (SFRS) presentation and disclosure. This robotics technology was developed by in-house through AI technology, programmed Machine Learning and integrating of Natural Language Processing (NPL) in a financial statement generator software to pick up data in different formats. With human inputs comprising only a trial balance and Profit and Loss Statement, the software will automatically analyze, learn and verify the data before translating it into financial reporting statements.
This powerful technology solution reduces the average time spent on each financial statement from between 5 to 8 hours to within 30 seconds to 5 minutes. By saving 90% of time spent on tasks, employees can redirect their time and effort from basic routine work to create higher value for clients. The significant time and manpower savings allow 3E Accounting to support a much bigger client base. This creates a magnitude of advantages in terms of improved productivity by 90%, higher operational efficiencies and enhanced value creation for internal and external stakeholders, and a 4X advantage over industry peers. This is why despite the pandemic's impact on the business environment, 3E Accounting saw a remarkable 37% increase in the firm's productivity Month-On-Month (2020 vs 2019) since the launch of the robot in November. With the same number of employees, the firm is able to expand its business with the support of automated robots.
"In my very first attempt with the Financial Report Robot, the set of financial statements was generated within a few seconds after the uploading of the Trial Balance and Profit and Loss Statement, I was totally surprised by the speed! This robot has reduced the time required in preparing financial statements tremendously. This is in stark contrast to the past where we spent hours just to prepare one set of financial statements."
Serene Tan
Accountant
Aligning With Research, Innovation and Enterprise 2025
3E Accounting's development of robotics technology strongly aligns with the Research, Innovation and Enterprise (RIE) 2025 plan that advocates the adoption, innovation and commercialization of robotics in Singapore. The RIE 2025 plan, announced on 11 December 2020, is a continuing effort to tap on science and technology to emerge stronger in a COVID world by building a more resilient, sustainable and digital Singapore.
"COVID-19 is a game-changer for businesses. It has validated 3E Accounting's business transformation efforts, and gives greater impetus to adopting robotic technology and our ambition to become an Artificial Intelligence (AI) accounting firm."
Lawrence Chai
Founder & Chief Technology Officer
Building a Smart Future With Robotics
Having invested S$2 million in technology growth, 3E Accounting is responding to Industry 4.0 and the global shift to Smart Nation and digital economy with greater emphasis and urgency in the development of robotics technology to create Tax and Bookkeeping Robots by 2022 and implement Artificial Intelligence (AI) in all business processes by 2025.

For media queries, email media@3ecpa.com.sg
3E Accounting website: www.3ecpa.com.sg