On October 2015, 3E Accounting Awarded The Highest Growth from July to October by OCBC Bank. 3E Accounting Being awarded the highest growth from OCBC Bank, 3E Accounting are entitled to a Lifestyle Rewards Program specially arranged by OCBC.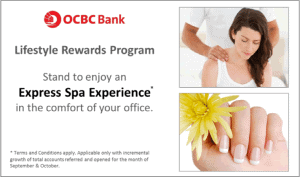 3E Accounting are extremely delighted to have achieved the highest growth from July/August to September/October, a significant increased from the past months.
The strong growth was driven primarily by the increased in incorporation services and exceptional customer satisfaction.
3E Accounting take pride in providing customers with the best-valued business account, going above and beyond to help their clients.
The OCBC Business First Account has helped 3E Accounting's clients in their business start-ups, business operations and brings many other value-added benefits.
With the splendid achievement and contributions, OCBC has specially presented 3E Accounting with a Lifestyle Rewards Program. It is a campaign where OCBC reward their top achiever that has attained high incremental growth.
3E Accounting are immensely grateful to have given the experience to enjoy Express Spa in the comfort of their office. This also serves as a good opportunity for them to reward their staffs for their outstanding performances.
The achievement is a huge accomplishment for 3E Accounting and they will keep on striving for continued success.
OCBC Bank – October 2015

The value OCBC brings to 3E Accounting is well recognized. 3E Accounting would like to thank OCBC for the recognition and all staff and clients for their tremendous support.