Why Invest in Singapore?
Your home away from home for Business – Singapore
A strong, emerging economy and reputed for its integrity, quality, reliability, productivity, rule of law, and enforcement of intellectual property rights, Singapore is a sure bet for future investments. Known for its pro-business environment as well as ability to attract sizeable foreign investments and business entrepreneurs, Singapore's world-class reputation is what makes it a key regional and global hub for entrepreneurs. Strategically surrounded by emerging Asean economies, Singapore boasts geographic and economic advantages that support a diverse and large fund management sector. The Singapore economy is primarily supported by activities in the manufacturing and services sectors. Manufacturing activities account for about a fifth of the country's overall Gross Domestic Product (GDP) while the services sectors contribute approximately two-thirds of GDP. In order to see exactly why Singapore is a preferred business location compared to other Asian countries, is suffices to say that compared to China, India and Japan three of the strongest economies in the region, the city-state offers incentives targeted to specific industries and foreign investors can apply directly with the Government for them.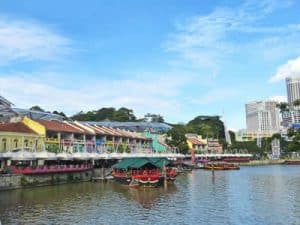 Probably the biggest draw for doing business in Singapore is the investment environment. The national reserves are abundant enough to withstand 10 years of recession, the government consistently stays stable with 1 party in power and has one of the lowest corruption rates in the world. To attract businesses ready to invest in Singapore, the government keeps its tax rates and tax laws competitive and takes a strategic, holistic approach towards stewardship of key pillars of the economy, such as petrochemicals, electronics, and clean energy. The country has placed a great deal of commitment into developing a strong domestic regulatory framework to protect IP rights. It is currently rated the best place in Asia and 4th in the world for IP rights protection in the Global Competitiveness Report 2015 – 2016 (World Economic Forum). Indeed, a consistently reliable IP environment was what spurred the World Intellectual Property Office (WIPO) in 2009 to set up its first Asian regional office here. The government has always adopted a pro-business policy, regardless of world economic situations or crisis. It has taken tough measures including reducing corporate tax rates, lowering employers' Central Provident Fund (CPF) contribution rates and capping office rental rates. For the quality of its government policies, Singapore has been rated the world's easiest place to do business (Doing Business 2015 Report, World Bank).
SPRING, IE Singapore, IDA and even IPOS all have multiple grants and fundings available for any business in any stage of development. Each statutory board offers a grant of sorts for their relevant subject, like IPOS offering subsidies for any trademark requirements, and IE Singapore offering assistance for overseas expansion and research. SPRING especially, has very good funding for local startups like the ACE startup grant which funds up to $50,000 with a $7 to $3 capital matching. Being recognised as one of the leading financial institutions of the world, Singapore is the only Asian country rated with "AAA" rating. Apart from that, Singapore provides a full range of financial products and services including banking, insurance, asset management, financing and treasury services. There is also no control on foreign exchange as well as profit remittance or repatriation of capital and profits from Singapore. Hence, the deep and liquid capital market can become an alternative source of financing for businesses. As manufacturing and services sector shifts to Asia, companies will increasingly turn their attention to the continent. They will scout for opportunities, look for talent, and build networks across the region. This is where Singapore has placed itself; an ideal neutral and stable base for entrepreneurs to leverage their knowledge and IP assets, and drive their company's growth in Asia. To quote Singapore's Economic Development Board, the lead government agency for planning and executing strategies to enhance Singapore's position as a global business centre, the city-state's motto of becoming "Home for Business is about deeply rooting companies in Singapore and being their home away from home".